I've reviewed a lot of things over the past several years, but this has got to be one of my favorite! I was recently given the opportunity to review some bath products by
Beyond the Bomb
. I sampled a medium-sized
Peace Pleaser Bomb
(pound cake scent ) and it was definitely "beyond the bomb"! I have tried a lot of bath products over the years - both inexpensive items and more pricey ones. This bath bomb has got to be one of the best bath products I've ever tried.
I've tried products that look similar to bath bombs in the past, but they just lay there in the water and don't dissolve properly. This bath bomb immediately started fizzing when I placed it in my bath water, and continued to fizz away until it was totally dissolved. The water had a yellow tint (which made me feel like I was bathing in Mountain Dew) and a pleasant aroma. All that is well and good, but the best part is that I got out of the bathtub feeling so nice and soft! And that feeling didn't wear off when I was dried and dressed. A day later, my skin is still as soft as a baby's!
So, needless to say, I'm sold on
Beyond the Bomb
! I can't wait to try some more of their fantastic bombs. I'm anxious to try the
Organic bath bombs
- these bombs have various health benefits, such as helping to clear stuffy noses in the winter. I'm definitely going to be trying the
Green Tea Organic Bomb
.
I know all you homeschool moms could use a nice bubble bath to relax a bit! But, if you don't have the time, these bombs can also be used in the shower. Just throw them on the shower floor and let them fizz away while you're showering!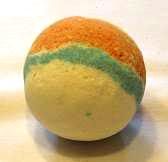 Because Beyond the Bomb is so new, I thought an interview with the founder/owner would be fun......
Trisha~ Thanks so much for joining me here at Reviews by Heidi. I'd love to ask you a few questions about Beyond the Bomb……
Where did you get the idea to start Beyond the Bomb?
Beyond The Bomb launced in the Spring of 2008. As a mom myself of 2 young children, and one that hated bath time, I was trying to find a way to make bath time more fun for them besides the traditional toys. I experimented with bath bombs and they loved them! It's magic to them dropping one into the tub and watching it dissolve and fizzle away. So from there I made more child shaped bombs and then started concentrating on myself. As we all know, moms definitely need time to wind down and there is nothing better than a warm bath at the end of the night. A bath bomb makes that bath time a unique and healthy experience
.
Why an internet store? Can Beyond the Bomb products be purchased anywhere else?
Beyond The Bomb Bath Bombs are not just limited to an eCommerce Store. We are local to the metro Atlanta area and are continuously working with day spas to carry our products. Right now we have our benefit bath bombs in Scarlett's Retreat Day Spa just south of Atlanta GA.
I love the name! How did you come up with it?
Beyond The Bomb was actually a name a fellow boutique owner, Bambina Ballerina, came up with. When I heard it I just loved it. I think it fits the theme well as we do not just sell traditional bath bombs. We also carry a Health Benefit Line, a Specialty Line of bath bombs that look good enough to eat, a Child's Line that turns bath time into fun time and a Favors/Gifts Line for those special moments in your life.
We hope, in the future, to expand to other bath products as well which would fit perfect with our theme and name of "Beyond The Bomb".
What is your personal favorite bath bomb?
I have so many favorites! It really depends on the mood. If I really need to wind down from the day and relax so I can sleep I grab a lavender bomb. If I need to wake up the green tea works best. My favorite everyday kind of bomb would have to be the Body Lovin' Benefit Bomb. It has the perfect mixture of a light aroma that helps relax the muscles and take my stress away. Plus, the benefits are cellulite reduction and tissue toning- and it works!!
Can you tell us about some of the health benefits of using the benefit bombs?
The Benefit Bath Bomb line is one of my favorites! These contain a HUGE list of medical conditions and health benefits associated with them. These can range anywhere from helping pregnant women through labor if they chose a water birth helping boost milk supply in breastfeeding moms, cellulite reduction and tissue toning to more serious conditions such as wounds, infections, respiratory problems, colds, allergies and skin rashes such as diaper rash for babies too!
When you're not busy making bath bombs or relaxing in the tub, what are some of your favorite things to do?
I don't have much extra time. In addition to my bomb business I also work part-time from home working on the computer. This of course is in addition to being a wife and mother. However, in the little amount of spare time I do get I enjoy blogging at
Life of an Internet Mom
or my other hobbies include sewing and scrapbooking.
Thanks! Is there anything else you'd like to share with my readers?
A big misconception is that bath bombs are only for those who love to take baths or adults. These are incorrect. There are a few benefit bombs that work wonders in a shower! The Woodland Fairy and Green Tea to name a couple are perfect shower mates. These Benefit Bombs once placed on a shower floor fizz away down the drain while letting off the herbal aroma and helping awaken your senses, clear your mind and open your sinuses. Great for stuffiness and common colds as well. The Green Tea Benefit Bomb has personally replaced my morning coffee. One of these on my shower floor is all it takes! Also, I love our kids line! This is, after all how we began. Baths are a big part of most kids lives. Not only are Beyond The Bomb bath bombs safe for a child's sensitive skin but they love them too! It's magic in the tub to watch one fizz and dissolve away and color the bath water! My girls scream for one each night!