I received the most adorable pair of children's socks to review, compliments of
Zooni
. Zooni is famous for their
Mop Top hats
, which are simply adorable! Now, they are introducing their new line - ConFEETi 3-D socks . . .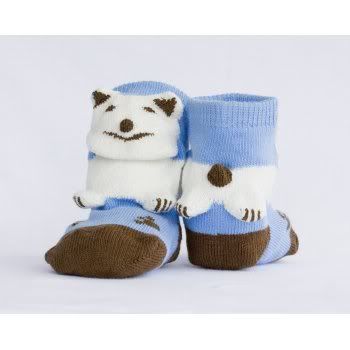 I received the Teddy B Confeeti socks in the 1-2 Year size. Are they not the cutest?! And, I'm glad to announce that they are very generously sized too. My Ian is 3 years old and wears about a size 9 shoe, and these socks fit him perfectly. How is it, do you think, that he knew right away that these socks were for him? As soon as the package was open, and he laid eyes on the socks, he knew - grabbed them, and immediately tried them on. I'd love to share a picture of him in his Teddy B socks; but, alas, my camera has decided to bite the dust (at a most inopportune time).
Though Ian likes these socks "just because they're cute", I like them because they are "something different" and I appreciate the attention to detail by the folks at Zooni. These socks are 3-D! The front portion of the teddy has paws and a face (including ears) that stick out; the back portion has paws and a tail that stick out. They look cute on the picture, but they're even cuter on a real foot (you'll have to trust me on this!) The colors of this particular pair are blue, brown, and white; so they will go quite well with lots of the more trendy, stylish clothing that is available for boys (and girls) these days.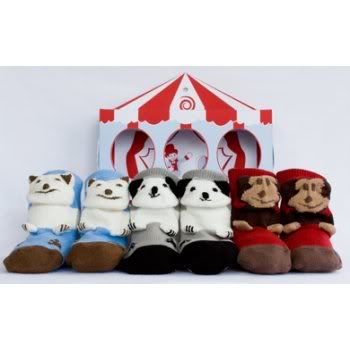 I was not able to find the socks on the Zooni website, but I did find them available for sale at Modern Moppet. You can purchase the
Teddy B pair here
. Because they are so cute and fun, you'll probably want to buy a full set! They're available in 3-packs for both
boys
(pictured, including Teddy B, Puppy Love, and Chunkee Monkee) and
girls
(including Sock Hop, Tabby Toes, and Panda Monium). Ashley's personal favorite is the Chunkee Monkee pair - so I can so see these ending up in Ian's Christmas stocking this year!
This blog tour courtesy of