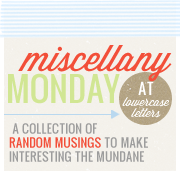 Lots of thoughts rolling around in my head – as seems to be the norm for a Monday morning – so I'm always happy to participate in Miscellany Monday.  Here goes ---
1. About 1/2 an hour ago, I said "good-bye" to Brian and my dad.  They are heading to Knoxville, Iowa for a week of dirt-track racing.  I don't envy them; but I'm happy for them!  Every year, they say this year will be their last – we shall see. . .
2. Last week was a busy week around here.  We went to the PA Renaissance Faire on Thursday (hot, but not quite the scorcher that last year was).  Saturday was a busy day – filled with fun events in our town – celebrating the 200th anniversary (if you're a friend on FB, you can see all the pictures from the big events).
3. This week will be a busy week too.  When the guys are away, we like to have fun too.  So, we've got things planned.  After Gracie's violin lesson tomorrow, we may hit a state park (with a beach).  Ian's been wanting to go to the beach, and I'm thinking this will be enough for him.  We've got tickets to see Psalms of David at Sight & Sound on Wednesday (which probably means some shopping in Lancaster too!)  And we've got a few other ideas up our sleeve for this week as well.
4. I love cookbooks.  Just a few weeks ago, we got new ones at our church.  This weekend, we bought one that was put together by the community in honor of the bicentennial.  Very nice.  I think I'll go through it and pick some new things to try this week.  I'm also getting some new cookbooks to review soon – so watch for cookbook reviews coming soon!
5. Ashley got baptized yesterday morning during our church service.  It was very nice.  She had to give her testimony before being baptized.  She's now a member of the church.  Makes me feel a little awkward, since Brian and I are not members.  Hoping old wounds will soon heal and we can move on. . . .(sometimes "the little children shall lead them", right?)
6. Now, I need to go and do some laundry and get some girls out of bed!  I don't think we'll do any "official" school this week.  Since Dad's getting a vacation, we should too, right?!