So, I just discovered oh Amanda.  Not only does Amanda host a fun Tuesday meme called Top Ten Tuesday, but she's also a Disney Mom (think: Disney World Moms Panel).  I'm jealous, very jealous!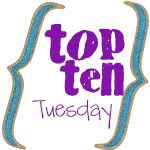 Since my life is so scattered lately and I can barely rub two thoughts together to come up with a quality blog post, I thought I'd try this list meme.  So, for my first attempt at Top Ten Tuesday, I'm going to share my 10 Favorite Things to Feed My Family - - -
1. Lasagna – this is definitely the most-requested item on my list and an all-time favorite both to make and to eat.
2. Stromboli – as a matter of fact, I plan to make this sometime this week in honor of my dad's birthday (it's one of his favorites).
3. Homemade Pizza – I'm adding this to my list but have turned over the making of the crust entirely to Ashley, and I just do the rest.
4. Crock Pot Pepper Steak – yum!  Not sure if I enjoy it more served over noodles or rice.
5. Baked Potato Soup – as we enter fall and cooler weather is coming, it's time to start preparing soups again and this one is definitely our family favorite.
6. Baked Oatmeal – this doesn't sound like it would be a favorite family meal, but I so love this stuff!  I eat it for 3 meals a day as leftovers.  LOL  (I have to confess, Gracie isn't too crazy about this one.)
7. Homemade Mac & Cheese – this isn't a main dish, but it's my most requested item to bring to family get-togethers (especially on Brian's side of the family)
8. Crock Pot Lasagna – a quick and easy take on an old original.  This is Ashley's absolute favorite crock pot dish!
9. Ham & Cheese Canneloni – this is so easy that it's almost impossible to mess up and is always very well-received both with my family and with guests
10. Beef roast & potatoes in the crock pot – this is an especially fun meal to come home to after being away all day -  the house smells amazing!
To see other Top Ten Tuesday lists, click here.  If you post a Top Ten Tuesday list, leave me a comment and let me know!