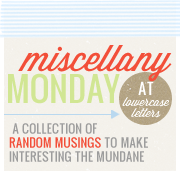 Carissa's meme is definitely one of my all-time favorites – partially because my life is so random and also because I love reading her random thoughts each week!  What fun! 
(one) We enjoyed a Harvest Party with our church family on Saturday.  Church family – that's nice to say.  Being in church limbo is never fun.  Could it be that we are finally feeling settled?!  Hmmm . . .
(two) Heard two wonderful sermons preached yesterday. Our morning sermon was on Hebrews 1:2b and was about getting to know Christ better.  Pretty amazing that he owns EVERYTHING, and we are joint heirs together with Him.  Our evening sermon was one of those that I felt was directed right at me.  The text was I Thessalonians 4:13-14 and was the first on a series about "the dead in Christ".  Paul wants us (Christians) to know that death is temporary and peaceful.  And, the great thing is that, as Christians, we have hope.  I need this reminder every once in awhile – especially when I find myself feeling so lonely. 
(three) I found a sofa cover on clearance at Wal-mart yesterday ($35).  The last one I bought there was a horrible fabric and looked like it would not stay in place, so it was quickly returned.  This one is one the stretchy kind.  It isn't perfect – and it's blue (I wanted burgundy) but it almost perfectly matches our other sofa and recliner.  It works!  I'm pretty excited because I love the sofa it's covering but the fabric was light and stained and pretty much hopeless – it's now got new life!
(four) My girls are learning Greek this year and I can't help but smile.  I just LOVE Greek.  Some of my fondest memories from high school surround a Greek class that consisted of me, 2 other students, and our principal.  :)
(five) I'm hosting a giveaway on my blog this week for an adorable DVD from the creator of the Veggie Tales Series.  It's called What's in the Bible and it's ADORABLE and FUN!  You can sign up to win by leaving me a comment on this post!
(six) This past week, I've received SO MANY awesome things for our homeschool.  I'm excited to share about them in the weeks to come!