I've got lots of thoughts rolling around in my head on this sunny Monday morning, the first day of November.  I've already posted about some of these thoughts (below) – but it's been a few weeks since I've made time to participate in the Miscellany, so I thought I'd make up for it today - - -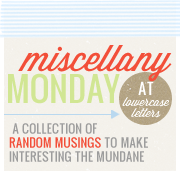 (one) When Ashley was little, we took her trick-or-treating.  I used to make (think: sew) hand-made costumes for her – and she was oh-so-cute.  But, over the years, we've felt convicted to avoid Halloween.  Sometimes I think people think my kids are deprived.  LOL  But, as Gracie says "We can just buy candy without having to dress up and drive around to peoples' houses."  Pretty much!  Anyway, trick-or-treating bugs me.  We got 2 sets of trick-or-treaters this year – one a family member group (that pretty much stops at our house once a year on – you guessed it – Halloween) – and the other a pair of  teenagers that we didn't even know.  Ugh!
(two) I'm participating in the Gratitude Challenge hosted by my associate and dear friend Brenda.  It'll be good to find things each day this month that I have to be thankful for.  Isn't it easy to get wrapped up in all the things that are troubling or bugging us?  This month, it's my goal to focus on the exact opposite.
(three) I've been enjoying the 30 Day Blog Challenge hosted by Katie at Katie's Journey.  If nothing else, it has gotten me to post on my blog daily and it makes me think.  That's always good, right?
(four)
Ian can walk!  It took 9 days after getting the cast off, and heading out for some fall pictures, to get him to go on his own.  I'm not sure if it was the sneakers or the different location – but he just TOOK OFF!  I just love this kid and I'm so glad he's mine!
(five) If we do school all 5 days this week, it'll get us to the end of our first quarter.  45 days of "education" and that's not counting the "fun" (also disguised as education and referred to as "field trips"). 
(six) Ashley leaves on Saturday for her first BIG adventure – flying to visit a friend.  I'm a bit apprehensive about putting her on a big airplane and sending her across the country.  Yikes!  I've given her roots, now I guess it's time to give her wings too. 
(seven) Also on Saturday, we've got friends coming to visit at our house for a week!  Can we keep our house somewhat tidy this week so I don't have to have a nervous breakdown on Friday?  We shall see!