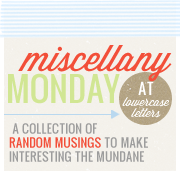 I have about a zillion thoughts running through my head this morning, so I just knew I had to participate in the miscellany for today! Some of them are kinda deep – others are pretty surface – but this is the stuff that is filling my mind of late - - -
(1) Yesterday was the Christmas Program at our church.  It was WONDERFUL!  (If you are a FB friend, I've shared videos there.) 
(2) After church, we went to my Aunt & Uncle's house.  Us girls – my aunt, cousin, mom, Ashley, Gracie, and I – went to a tea room for a Christmas Tea.  Turns out, the place had overbooked and they ended up setting up a table in the gift shop for us – we were a bit put out at first – but it turned out rather nice to have our own private place to visit and enjoy!  We had fun trying on the crazy hats, trying the variety of fun foods (I'm kicking myself for not taking pics of the food), and just laughing together. 
 
Back row (l-r): My mom, me
Front row (l-r): Ashley, cousin Meredith, Aunt Vicky, Gracie
(3) After our tea, we all went back to my Aunt's house where Gracie and Ian enjoyed my Uncle Tony's train collection.  We had to literally drag Ian out of there!

(4)  Last night, Brian was talking about a dear lady we know who is very, very sick right now.  He made a comment something along the lines of "I hope she can hold out through the holidays for the family."  Right away, I was transported back to this past March, and sitting at my friend Sue's bed as she lay dying.  As much as I wanted to keep her here with me and her family, we all came to a point where we realized that was very selfish of us.  Nobody wants their loved ones to suffer – especially if you know they're  going to a better place than here. Anyway, that's just something I've  been thinking about. . .
(5) People who "donate" money to a church with stipulations on how it is to be used are not really "presenting an offering" to God – they are manipulating the church to do what they want.  I've seen this happen a few times now, and God does not honor it. 
(6) Christmas is in 5 days!  (I just had to throw that in there – I have a 4 year old, and he's counting the days!)  I love the excitement of children around this time of year.  They are just so full of awe and wonder.  I'm reminded of The Christmas Box and the idea that "the first gift of Christmas was a child" – may we all treasure our children – now and every day!  My heart is going out to the Hanley family – who lost a little one last week due to an accident in their home – I just cannot even imagine. 
(7) Please pray for this special family and remember – no matter how horrible your circumstances may seem, there is probably someone, somewhere, who is going through something even worse.  The loss of a child – at this time of year (or anytime) – is heartwrenching. It's something I hope to never have to experience – don't we all.
(8) On Saturday, Brian took me on a date.  We went for a late lunch to the Macaroni Grill.  (We're trying to go to new places that we've not gone  before, and try some new things.)  I got brave and decided to try the Eggplant Parmigiana – it was surprisingly yummy! 
(9) Afterward, we went to Target for a few things – thank goodness our Christmas shopping is done!  I found a pair of slippers for my feet – which are ALWAYS freezing, even in fuzzy socks.  I do believe old age is setting in, despite my attempts to fight it!
(10) We're having school this week – and next week.  But, we'll throw in some fun stuff today.  Either today or tomorrow, we need to get out for our Christmas groceries.  Making the plans and lists totally counts as home-ec around here!  I love homeschooling!
(11) Over the weekend, we watched a documentary about DisneyLAND.  I've never really had a desire to go to the CA park – having fallen in love with Disney World in FL.  However, now I'm thinking that a trip to the west coast just may be in order one of these days (probably in the distant future). 
(12) I have a bunch of reviews that I'd love to get posted and out of the way before Christmas.  So, watch for lots of reviews this week on my blog!
What are your miscellaneous thoughts today?