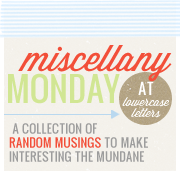 Wow, it's  been several weeks (or longer) since I've participated in the miscellany.  I've so missed it!
What is it about summer colds that makes them so much worse than winter ones?  Winter ones are expected, but these colds that come when it's warm outside make no sense to me.  For the past several days I've been dealing with this cough that just keeps getting worse.  Ugh!  I'll avoid the doctor at all costs, but don't want to be sick for the beach.  Cough, please go away!
Who has bought their own domain name  through Blogger?  I've been tossing the idea around for a few months now.  Should I or shouldn't I?  What has been your experience?  Recommend it?
I need to get a post up about our school choices for the 2011-12 school year.  First though, I'm thinking i should put together our portfolios for the 2010-11 school year and get them turned in.  There's gotta be some method to this madness, right? 
Why have I avoided The Hobbit my whole life?  Ashley and I are 3 chapters into it and I'm LOVING it.  Seriously!  Who knew?!
And now I think I'm going to go sit on my front porch – which is now clean and contains my pretty white rockers – and read . . .