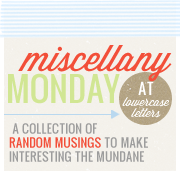 It's time for another Monday filled with miscellany. Carissa couldn't have come up with a better title for this weekly blog series, as my Mondays are always very random and crazy! Here goes . . .
(1) Gracie played her violin for special music at church yesterday. She played "It Is Well With My Soul" along with an accompaniment cd (which had the orchestra part on it). It was a fairly difficult piece, with changes in position, dynamics, and timing. She did a great job, despite the fact that she said she was shaking the whole time. The non-clapping Baptists even clapped! Made this Mama proud. I only wish I would have thought to take the camera and videotape it to share.
(2) Speaking of violin, this afternoon is orchestra rehearsal. For such a young group of kids, they have definitely risen to the expectations of their conductor! Starting in April, their rehearsals will be weekly. We're looking forward to their two performances!
(3) Ashley's off to work already this morning. I know I say this a lot, but I'm still hard-pressed to believe that she is done with school, has a job and a car, and is all grown up. Where have the years gone?! Parents – treasure those little ones because they don't stay little nearly long enough!
(4) Earlier this year, I experienced some times of major stress, which resulted in a health scare. As a result, I bonded with some great ladies and we've teamed up on a new project that we're getting ready to launch in just a few weeks. I'm pretty excited and can't wait to share more about it. For now, though, know that if you are a homeschooler (or are considering homeschooling), you're going to want to check this out!
(5) This Thursday marks the resurrection of the Destination Disney meme here on my blog! I'm really excited to start this back up again – and hope that we'll have lots of new people participating! It's always fun to share that love and passion for Disney with others. So be sure to check up the line-up of topics and get ready to post along with us.
Hope you're having a fabulous Monday! Please share your miscellany with me in the comments!