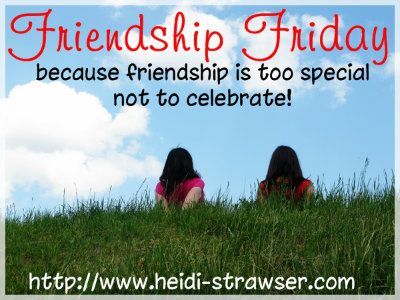 As we are moving into the Christmas season, it seems the perfect time to be focusing on friendship. If you do Christmas cards, you likely send to some friends that you don't get to see very often (if at all). I encourage you to add a special note in your Christmas cards, telling them how important they are to you and how they bless you! Cards are nice, but there's something extra special about a personal note.
Don't forget – if you have a blog – to be posting about your friendships there too! I like to surprise my friends on Friday mornings with a little note on Facebook saying "Surprise! You are featured on my blog today!"
Now, moving on to this week's introduction . . .
---
Several years ago, I was entrusted with the task of creating a product review team for the company that I worked for. My assistant (at the time) and I read through a TON of blog posts and reviews, scoring them as we went along (based on writing style, content, grammar and spelling, blog appearance, etc.) After awhile, those write-ups start to run together!
We made our final selections and sent out e-mails congratulating those who had been chosen to be charter members of our team. I remember one particular reply – it was from Renee – and it went something like this:
Thank you so much for giving me a chance and choosing me for your team. So many people can't see past my disabilities and just write me off as incapable to do things. I really appreciate that you believe in me enough to allow me to be on your review team.
To which I replied with something along the lines of "I wasn't looking at what you CAN'T do, I was looking at what you CAN do! You are a wonderfully talented writer with a LOT of potential. I know you'll be a great asset to our team!"
Here's the thing, though . . .
I had no idea how much of an asset Renee would be to me!
Over the years, we've had so many conversations via instant messenger that I couldn't even begin to guess how many. She has become such a great friend to me! She has been there for me through many, many ups and downs. She has talked me through them and is always reminding me of God's will and purpose for my life and that His timing is not my own.
I was blessed beyond measure a few years ago when my family was heading down to Florida. We were able to make a pit stop in Georgia to visit with Renee and her family in their home. She invited us to spend the night with them. I remember her commenting before the trip that she hoped my kids wouldn't be afraid of her. Well, in all honesty, I don't think they even realized that she was any different from us.
Despite the fact that Renee is both blind and deaf, she maneuvers her home with ease, speaks in a voice that sounds perfectly normal, and even has the ability to sense things around her so that you have a hard time remembering that she can't hear. I don't think my kids had any idea there was anything "different" about Renee at all – except that, in her school room, she has cool computer equipment (aka: assistive technology devices).
We had a great time getting to know her better and meeting her husband and son. We sat around their dining room table and played games. She made us a Southern breakfast feast (complete with grits!) And, when the time came for us to hit the road, I cried.
When I think back to how God brought us together, I'm just amazed! Years later, we're still great friends. While we are no longer part of that review team together, we still work together at Homeschool Mosaics. She's one of our columnists; but, more importantly, she's our friend, our mentor, and our resident reminder of God's goodness and His plan.
I simply cannot imagine my life without this very special lady in it. She has just consistently blessed my socks off and I love her dearly!
Thank you, Renee, for being such a wonderful friend to me! I love you dearly! And, over and over, I am amazed by you!
If you would like to learn more about Renee, you can visit her bio page at Homeschool Mosaics. From there, be sure to check out her school's website and read her posts on our site.
---
get the InLinkz code