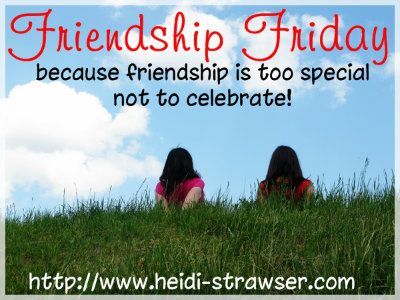 Last week, we had some new participants in Friendship Friday – yay! Just think, if you blog about (and bless) your friends, maybe they will do the same, and we can really get this meme to go viral! Friendship is SO important – so talk it up!
This week, since it was Thanksgiving (at least, here in the states) yesterday, I'd like to encourage you to tell at least 3 of your friends that you are thankful for them. Maybe leave a surprise message on their FB wall – or call when you know they aren't home and leave a message on their phone. They'll love it!
This week, I want to tell you about a friend that I've not yet had the privilege of meeting in person . . .
---
Everyone needs a cheerleader in their life – someone who is always there, telling you that you are wonderful and beautiful and successful – especially on days when you don't feel that way at all. My cheerleader is Roberta.
I got to know Roberta through my former job. She was a member of the product review team that I was heading up. She was always a great and responsible member of the team, and one that I was glad to have working with me. Even then, I could see her cheerleader qualities and knew that she was something special.
But, it wasn't 'til the end of last year, when circumstances presented themselves that prompted me to quit my job, that I really realized how wonderful Roberta was/is.
She literally stood by me – through thick and through thin. To this day, I will often have a little positive private message pop up while I'm on FB – and 98 times out of 100 it's from Roberta. It might just be something simple like "you're beautiful" or something a bit more profound like this one I received from her yesterday --- "Thinking of you while listening to the wind and waiting for the rain and/or snow. Have a great day with the family! I'm certainly blessed to have you in my life."
The other day, I received a package from her with these little treasures ===>
Know what they are? They're rice bags that you can heat in the microwave to keep you warm or soothe aches and pains. There's one big and two small. But, they're not just any rice bags! She made mine special with Minnie Mouse fleece! Not only are they adorable, but they're comforting too! Just like their giver!
Like I said, I've never gotten to meet Roberta. If I do, she's getting a great big hug for all the times she's put a smile on my face over the years. I just love her to pieces and I know that, even if I never get to meet her this side of heaven, she's a real, true friend!
Now, she works with Brenda and me on our Homeschool Mosaics website – not only is she a writer for the site, but she's also our Marketing Manager. Why? Because she's got such great cheerleader skills and is the perfect person to cheer our team members on to do their best.
LOVE THIS GIRL! You can learn more about Roberta at her blog – Pondering on the Prairie.
Thank you, Roberta, for being a true friend! You are special to me!
---
get the InLinkz code