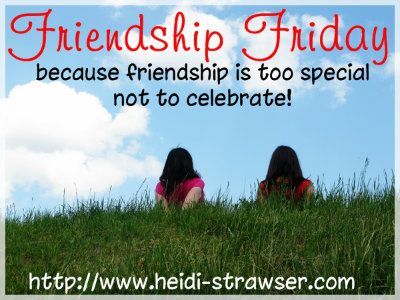 Have these posts inspired you to think about your friendships? I hope so! Are you the type of person that has one best friend or many close friends? I used to be the one best friend type; but that has changed over the years. Especially with the internet and all my "virtual friends" (many of whom I can now say are "in real life friends" also).
This week, I'd like to encourage you to pick one friend and write a post about them – either on your blog or as a Facebook note. Be sure to call, email, or tag him/her to let them know you wrote about them – and that, most importantly, you appreciate them.
Now, moving right along to this week's introduction . . .
---
Today I'd like to introduce you to my friend Suzanne. She was my very best friend in high school. We did everything together – cheerleading, daydreaming about New Kids on the Block (we even had matching neon pink t-shirts with neon green lettering!), going to amusement parks, studying for tests, etc.
After high school, we even went to college together and majored in the same thing – Early Childhood Education. During our first semester, she lived with my family. We carpooled to school together every day. After class (or sometimes instead of class), we'd drive around and just explore. I think we found every back road in Harrisburg that year, and could get ourselves almost anywhere! We both realized that daycare was not our thing, and decided to quit after 2 semesters and get jobs.
Later, we both found ourselves working at PA Blue Shield.
Suzanne was in my wedding.
She rented an apartment from my cousin and lived right down the street from me.
We carpooled to work together.
A few years later, I had Ashley and decided to quit my job to stay home. She decided to pursue another career and moved away. And, unfortunately, as is often the case with friends, we drifted apart.
I found this old picture of Suzanne, me, my Pap (who is no longer with us), and Brian – I believe it was taken at one of my brother's birthday parties (or was it David's graduation party? Suzanne, do you remember?)
I'd give my eye tooth to be that size again. And that young! LOL But that's a story for another day.
Anyway, several years ago, I wrote an article for our school's newsletter. Suzanne read it, and contacted me via e-mail. We continued to e-mail back and forth occasionally.
She went to college and earned a degree in Speech Therapy, got a great job, got married, and lives only about 1/2 an hour from me now!
Last summer, we met up so that she could help Gracie with a speech issue that she has. We have gotten together as couples a few times. Our hubbies are both into sports, so they hit it off. And, Suzanne and I have picked up right where we left off.
We spent a day together last month – just chatting and reminiscing together. Then, last Saturday, we had a Girls' Day Out together – we went for lunch, strolled through a craft "mall" type place, went for "cheap" groceries, and just had fun spending the day together.
I'm so thrilled that we've reconnected after all these years, and that we still have things in common, and can visit and chat like no time has been lost. I've enjoyed our times together, and hope we will continue to hang out together over the years to come.
I was in need of a "real life friend" and she came back into my life at just the right time. Now, we just need an updated picture!
Thanks for being my friend through the years, Suzanne. I love you!
---