I received this great craft book from Kregel called
Bible Crafts 1
~ Costumes, Rings & Things, and Clay Pots
. This is a 32-page paperback book, size 8 1/4 x 11 3/4 inches. It's got the cutest little craft ideas for your kids~ whether at home, or in a Sunday School or co-op setting.
Each craft page includes the minutes it will take to complete the craft, along with the average age range the craft is suitable for (there are crafts for ages 4-11 in this book). There is a materials list, preparation for grown-up, and step-by-step directions, along with pictures (drawings). Another great addition to this book is that, for each craft, there is an accompanying Bible verse (which speaks directly about that item) and a "Life in Bible Times" section (which asks a question and then gives the Bible times answer).
My daughter Gracie, who is 7, really enjoyed looking through this book. Many of the crafts are made from items that you will have readily available at home, which (to me) is a BIG plus! Gracie grabbed some craft supplies and made herself this bracelet:
Here are the directions for making the bracelet (taken from page 25 of the book):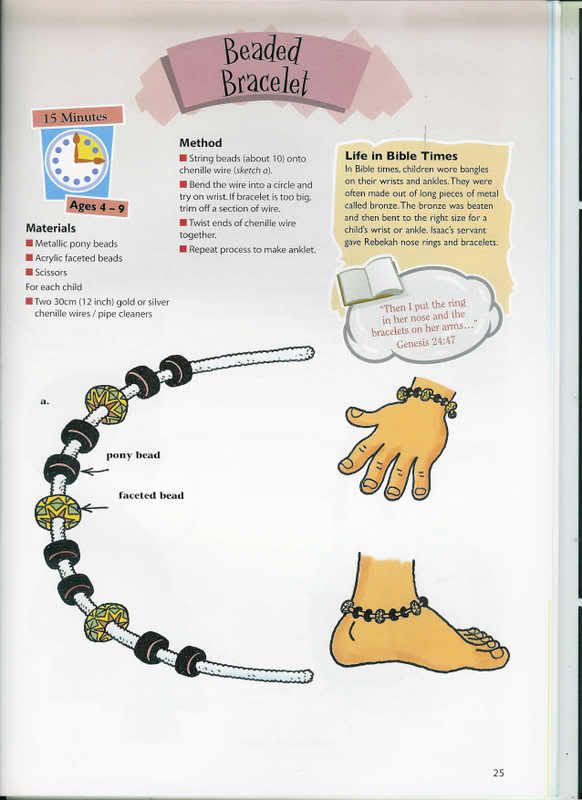 That's just a sneak peek~ you'll need to buy the book for the rest of the crafts! You can buy this one at
Amazon
and at
ChristianBook.com
(I noticed they both only have 1 left in stock~ so hurry up!)
Also, you might want to check out book 2 in this series~ it contains craft instructions for making musical instruments, writing, and baskets & mats.