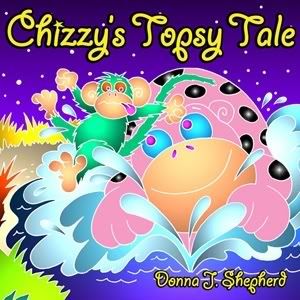 Whimsical rhymes speed Chizzy and Dotty into the jungle on a whirlwind search for tempting fruit. Kevin Scott Collier illustrates Chizzy's rollicking escapades with a deft and humorous touch. Solid values, like helping a friend in need and minding Momma, make Chizzy's Topsy Tale a wonderful read-aloud choice.
Children's and Inspirational Writer and Speaker, Donna J. Shepherd looks at everyday life and finds God's fingerprints everywhere. A columnist for The Dabbling Mum, National Association of Baby Boomer Women, and Christian Work at Home Moms, she has hundreds of articles and devotionals to her credit. Her devotionals and stories appear in Daily Grace for Women, Anytime Prayers for Everyday Moms,

and

The Best Grandma in the World.
I am always honored when an author approaches me for multiple reviews. That is the case with Donna Shepherd, as I have previously written reviews for Ouch Sunburn & No More Gunk, as well as Maybe We Are Flamingos (see links in my left-hand sidebar). Chizzy's Topsy Tale is another great team-up by author Donna Shepherd and illustrator Kevin Collier. This book did not disappoint. With it's fun rhyming verse and it's vibrant illustrations, this book will be a favorite for many children. The tale of Chizzy is fun and enjoyable to read. The illustrations are amazing, as they are outlined in white as opposed to black, a look I haven't seen before and really enjoyed. I'd definitely recommend this one!