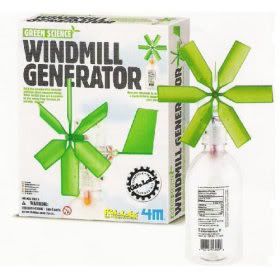 Another incredible green toy for older kids from 4M!
Build this amazing wind generator and learn about renewable energy. Watch the LED glow as it is powered by free energy from the wind. No batteries required! Help save the planet by recycling a plastic bottle to support your wind generator.
Contents:
* 1 Rotor
* 1 Front-housing with gear and rotor shaft installed
* 2 Half screw caps
* 1 Tail
* 1 Toy motor with gear
* 8 Small screws
* 1 LED unit with wires and detailed assembly instructions
This was an exciting product to me. I'm not a huge fan of science, so it's hard for me to just come up with fun science experiments on my own. I must admit, though, that when I first opened this box, I was a little intimidated by all the pieces that came with it (some very small). I sat down to work on this project with my 8-year-old daughter, and we put the windmill generator together with surprising ease. The directions were extremely clear and easy-to-follow and the pieces were well-represented in the directions so we had no problem distinguishing what was what.
But, the true test of projects like these is always how they work, right? We got a fan and turned it on high speed and, sure enough, the windmill generator took off! We couldn't wait until darkness rolled around and we could test it again. It was so exciting to see the light that was generated from the wind! We added water to the bottle and enjoyed the effect that the light made on the water.
This was definitely a fun project. When 2 non-science people give it TWO THUMBS UP, you know this company has succeeded! I would definitely recommend this Windmill Generator project and will be looking into more Green Science kits to make science fun and come to life! These kits can be purchased at
Kobold Toys
. Christmas is coming, and I'm sure you kids would love these - educational gifts that are actually FUN!