I want to preface this review by saying that I was honored to be asked to review this book.
Kevin Scott Collier
introduced himself to me this past summer - he discovered our
Summer Reading Splash blog
and wanted to offer his services to illustrate a "real' frog mascot for us (one that wouldn't look so much like clip-art). As a result, Splish was born - and we've literally been on a wild ride ever since! Be sure to stop by
Splish's blog
next week and check out our National Young Readers Week promotion - there will be LOTS of FREE book giveaways and some fun news about Splish (which Kevin had a big part in!) Now, on to my review......
What happens when legends collide and an eccentric old man meets creatures of lore? Will he give them up? Or will he keep their secret? As Professor Horace, Cryptozoologist, ventures into the unknown, he encounters Big Foot, the Loch Ness Monster, and the Ropen. The myth seeker becomes myth himself. Suggested age readers 5-12.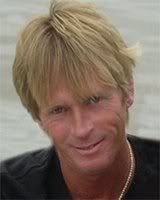 Kevin Collier is the author and/or illustrator of over 100 children's books. One book he illustrated won the New York Book Festival 2008. Another was voted one of the top 50 children's books of all time by World Magazine. His current projects include a Christian television program in which he teaches children to draw. Visit Kevin at
his website
.
I love this book! I know by now that you, my readers, have figured out that I'm a sucker for a good children's book. I especially like them when they contain rhyme. This may be a result of growing up on Dr. Suess - but, whatever the reason, I love storybooks set to rhyme. Kevin has written an adorable tale of Professor Horace and his journey into cryptozoology and, eventually, obscurity. Kids will love hearing this story and will ask to hear it again and again. The pictures are in classic Kevin Collier style - so colorful and fun to look at (if you've seen Splish, you know what I'm talking about!) There is so much to take in on each page. Something that all homeschooling parents will appreciate is the "index of characters" at the back of the book - it explains the myths and legends of the creatures pictured and/or mentioned in the book. This page would be a great introduction for some further research for older kids.
You can find out more information about Professor Horace by visiting
his website
. All of the proceeds from this book are going to the Christian school that Kevin's son attends.