When Sally the zookeeper wishes Mori the okapi a Happy Birthday, Lito, the nosiest of all the gerenuks, is listening at the fence between the two exhibits. Follow along as he gets Elvis the king vulture to help him plan and pull off a surprise party for Mori. Will Mori be surprised? How will all the animals in the zoo get to the party?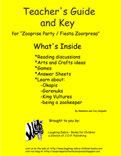 This book is the joint effort of author Rebekha Delgado and illustrator Joy Delgado. What started out as a family project, this entertaining picture book has taken flight! A fully bilingual, English/Spanish, story that has an activity book and a teacher's guide to go with it, this trio truly goes beyond reading. Intended as a read-aloud for small children or for older children to read it for themselves, it can be purchased at Amazon.com, Target,com and the publisher's website. To learn more about Zooprise Party/Fiesta Zoorpresa and gets lots of free activities, visit
http://www.laughing-zebra-children-books.com
.
This is a very different book! I've seen some other bilingual books before, but none quite like Zooprise Fiesta. On each page of this fun story, you will find the English version on the left-hand side and the Spanish version of the same tale on the right-hand side. It's a sweet little story and one that your kids will enjoy hearing over and over again. If you have bilingual children or are working on teaching either English OR Spanish as a second language, this book would certainly fit right in.
As a homeschooling parent, I was especially exciting to see the accompanying books. The workbook is full of fun pages for children to fill in and do - all accompanying the story and making it "come to life". My eight year old daughter enjoyed reading the book, but she's spending much more time working through the sheets in the workbook. There are fill-in-the-blanks, coloring pages, matching, word search, crossword puzzles and more. She is having to refer back to the book to find answers to some of the questions, making this a very educational (yet fun) adventure. The Teacher's Guide contains great lead-in questions, lots of extra information about the zoo characters in the book, and both art and game ideas - enough to turn this book into a mini-unit-study.