I know that Christmas is over, but I just recently discovered this little gem of a story and wanted to share it with you.....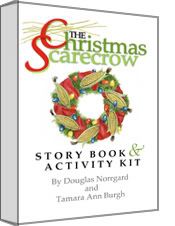 The Christmas Scarecrow
is a sweet story, set to rhyme. I LOVE rhyming stories - they are always fun to read (if well-written) and there's just something warm and cozy about them. Right now, we're experiencing a typical PA winter (actually, even colder than typical), so stories like this are most welcome and fun to read in front of the blazing fire! Though there is slight reference to Christmas, this is a tale that can be shared long after Christmas is over - just for fun!
We homeschooling moms are always looking for ways to enhance the reading of a book. The Christmas Scarecrow was written by Douglas Norrgard and illustrated by Tamara Ann Burgh. They have created an accompanying activity kit that is above and beyond most that I have seen. With this kit and your printer, you and your children can create some fantastic, fun projects to make The Christmas Scarecrow even more fun and meaningful. Along with the 16-page coloring book (which also doubles as a creative writing exercise!), your children will enjoy making the full-color mini-book of The Christmas Scarecrow (which includes full text), the Fandangler bookmark (have you seen these? they're quite fun!), an oragami crow, full-color Christmas Scarecrow postcards to share with family and friends, a Christmas Scarecrow iron-on transfer (to be used on a shirt of choice, totebag, or whatever else might strike your fancy), and an oatmeal box theater. Also included are 12 Days of Christmas cards in Spanish (with English translations), along with ideas of fun things to do with them.
I'm looking forward to using this Story Book & Activity Kit with my own children. I'm sure you and your kids will have fun with it as well. You can find it (along with more information) at
Play Paper Press
.