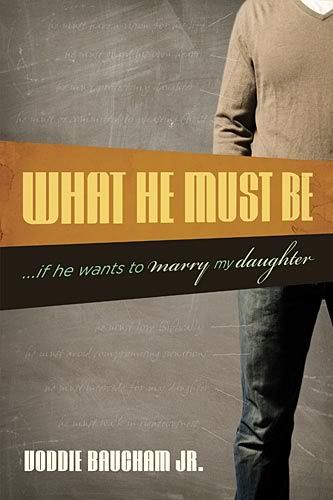 All parents want their daughters to marry godly young men. But which qualities, specifically, should they be looking for?
What will you say when that certain young man sits down in your living room, sweaty-palmed and tongue-tied, and asks your permission to marry your daughter? What criteria should he meet before the two of them join together for life?
What He Must Be… If He Wants to Marry My Daughter
outlines ten qualities parents should look for in a son-in-law, including trustworthiness, a willingness to lead his family, an understanding of his wife's role, and various spiritual leadership qualities.
Author Voddie Baucham follows up on his popular book Family Driven Faith with this compelling apologetic of biblical manhood. By studying the principles outlined in his book, parents who want their daughter to marry a godly man—as well as those who want their sons to become godly men—will be well equipped to help their children look for and develop these God-honoring qualities.

Voddie Baucham Jr.
is the preaching pastor
of Grace Family Baptist Church in Spring, Texas. Author of Family Driven Faith and
The Ever-Loving Truth, Baucham is also a sought-after preacher and conference speaker. He and his wife, Bridget, live in Texas with their children. You can learn more about Voddie by visiting
his website
.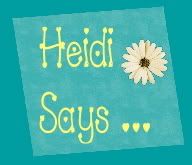 When I received this book for review, I immediately thought this was a book for Brian to read. Brian is not much of a reader (actually, it's not a reader at all, unless he's reading something to do with the dirt-track races or something written by Glenn Beck). So, when he told me there was a new Glenn Beck book out and that I could buy it at Amazon.com, I thought to myself "hmm...this just might work...."
I ordered the book he wanted, but I gave it to him with an ultimatum .... first, before he could read that book, he needed to read this one, by Voddie Baucham, and let me know his thoughts on it. I didn't think he would take me seriously, but HE DID! I noticed the book was missing; he was taking it along to work to read on his breaks. Each night, when he'd come home, I noticed the bookmark rapidly working it's way through the book!
Brian started telling us things about the book - things he was reading and agreeing with, ideas that Mr. Baucham presents, etc. A few times, he even handed me the book and said "hey, you have to read this!" When it was all said and done, he said he'd like for me to read this book soon. He'd also like for Ashley to read it sometime in the next few years. We've been discussing dating and marriage with her, and sharing some ideas and/or suggestions that we have. He thinks this book might help cement some of that.
So, this book is now on my "to be read" pile. I think it's a keeper. If you're wondering what qualities you should be looking for in a future mate for your spouse, or if you're raising up young men that you'd like to see become men of integrity (ones who will take their marriage vows seriously), then this may very well be just the book for you!