Last year, the
TOS Homeschool Crew
received products from
MathTutorDVD.com
. Ashley and I used the
Algebra II DVD
and were very impressed. I was fortunate enough to have a great math teacher in high school; Ashley doesn't have that privilege. (She's stuck with me!) We both really enjoyed Jason's teaching, and I could tell that Algebra was making sense to her when she sat and watched him teach. I was impressed, and would have purchases more DVD's for this year, but we chose to go with something more practical this year (she's doing Accounting).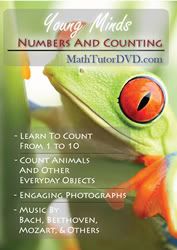 Anyway, Jason e-mailed me last week to tell me about the newest addition to the Math Tutor line -
Young Minds Numbers and Counting
. Unlike the other DVD's in the Math Tutor series, this one targets a much younger audience - PRESCHOOLERS! I jumped at the chance to check it out because Ian is always under foot when the girls and I are working on school; and he's constantly begging to "do school too". He has a few workbooks, but unless I'm available to sit and work with him, they're basically useless.
That's where
Young Minds Numbers and Counting
comes in! Now, I'm not one of those mothers who plops my child in front of the tv as a "babysitter". But, I do think there is a time and a place for the tv; and when the girls are trying to concentrate on school, that's one such appropriate time! Let me just tell you two things about this DVD:
Ian LOVES it and asks to watch "my school momie" (translation: movie) over and over again
It WORKS! In just a week's time, I have seen tremendous improvement in Ian's math skills. He already knew his colors and knew some numbers (but not counting sequentially). Now, he is walking around the house talking about what noises the animals make; and he's counting WELL.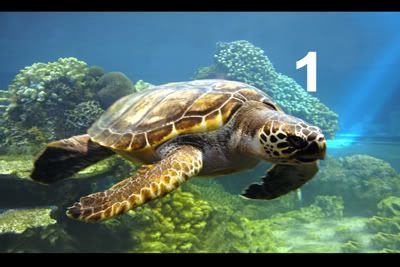 In much the same style as a Baby Einstein DVD, Math Tutor uses classical music (Bach, Beethoven, Vivaldi, etc.) as the background for their DVD's. The DVD is narrated by a child, making it appealing to young children. The pictures are of things that are interesting to little ones (animals, food, thing that go, etc.) And, while teaching numbers, the DVD also introduces other important concepts such as the sounds animals and things make and colors.
I would highly recommend the
Math Tutor DVD series
, and will definitely be recommending
Young Minds Numbers and Counting
to anyone with preschoolers (baby through age 4).