Gillian Thayer's calligraphy business helps to keep her mind off two small headstones in the cemetery. Still healing from the death of her twins during birth, Gillian absorbs another emotional blow when she finds a love letter addressed to her husband Marc, a pastor and counselor. But before Gillian can confront him, a gunshot shatters her already fragile world. Gillian's family is forced to leave Chicago to escape the eye of the media. Together they seek refuge in Whistler's Point, a historic lighthouse on Lake Superior near the tiny town of Newberry, Michigan. But they are not the only new arrivals looking for a place to lay low. Haydon Owens, an amateur magician and accomplished killer, has also come to Newberry hoping to start a new life, but he isn't there long before he spots another potential victim.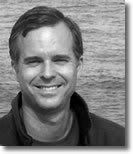 Adam Blumer lives in Michigan's Upper Peninsula with his wife, Kim, and his daughters, Laura and Julia. He works full-time as a freelance writer and editor. A print journalism graduate of Bob Jones University (Greenville, SC), he served in editorial roles for fourteen years at Northland Baptist Bible College (Dunbar, WI) and Awana Clubs International Headquarters (Streamwood, IL). He has published numerous short stories and articles. Kregel Publications (Grand Rapids, MI) released his first novel,
Fatal Illusions
, on March 31, 2009.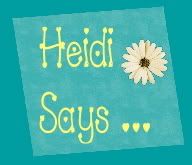 Whoa! This book was a real page-turner, right up to page 392! I must say that it seems a bit of an oxymoron (one of Ashley's favorite words) to be reading this book alongside of the non-fiction book,
Fearless
, by Max Lucado. In that book, Max is telling me to put my fears to rest (see my other post, today, for more on that book); then I pick up this one and I'm scared to walk from my bedroom to the bathroom in the dark!
But, I must confess, even though it scared me, I really, really enjoyed this book. I'm very impressed that this is Mr. Blumer's first novel. I see great potential as an author and hope that he's got more books in the works. One of my favorite suspense authors of all time is Mary Higgins Clark. I believe that Mr. Blumer's work really rivals hers; and, to make it even better, his is Christian! So, he's got a new fan, for sure!
If you enjoy a good suspense novel, I'd highly recommend picking up
Fatal illusions
- warning, though: you might not want to read it in the dark!