*Hopefully we can get some more participants this week! Destination Disney is so much more fun when more of us play! If you would like more information, please see
last week's post
.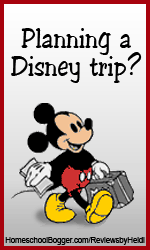 Now, on to this week's question(s) . . .
Do you do character meals when you visit the Disney parks?
If so, which one(s) have you done?
Do you have a favorite? If so, why is it your favorite?
~*~*~*~*~*~*~*~*~*~*~*~

My answer . . .

We had never done a character meal, until our trip in 2005. I always thought they were a waste of money - I mean, after all, you can meet all the characters in the parks and get their autographs, etc. Why would you want to pay extra to eat a meal with them?

Then, in 2005, we had some extra points left over (thanks to the Disney Visa card), so we decided to try a character dinner. We chose to have lunch with Pooh & Friends at the Crystal Palace in the Magic Kingdom. WE LOVED IT! The food was a bit fancier than we're used to, but I enjoyed trying some new things and the kids loved interacting with the characters. They come right up to your table and spend time "visiting" with you (I put that in quotes because characters in costumes don't talk). We decided, at that time, that every trip to Disney would include a character meal!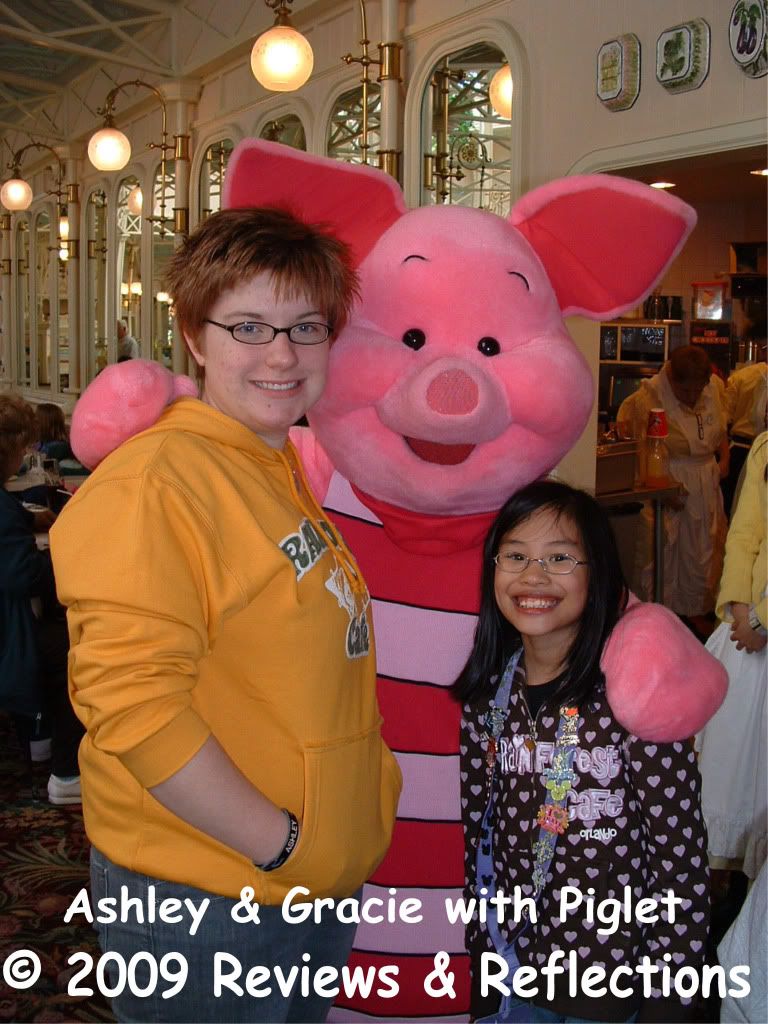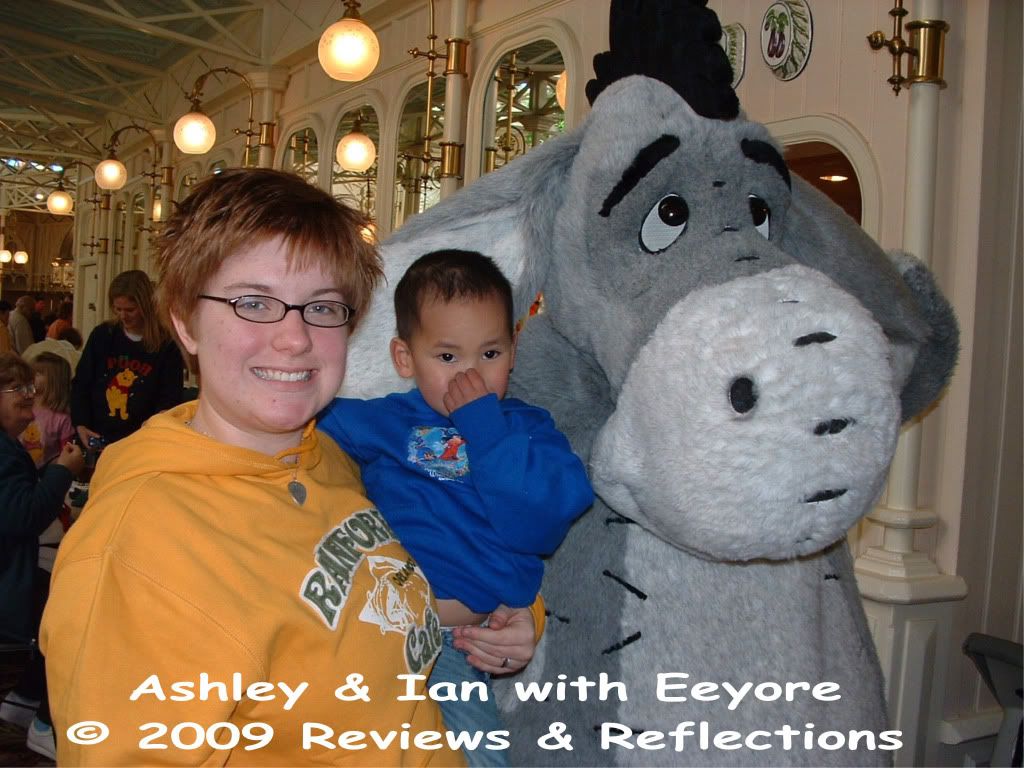 When we were planning our trip for last January (09), we sat down with our friends and decided to do 2 character meals. Because it was their first trip to Disney, and they were traveling with a baby, they were open to whatever our kids wanted to do. So, we decided to do the Pooh lunch again (the girls thought Ian would enjoy it).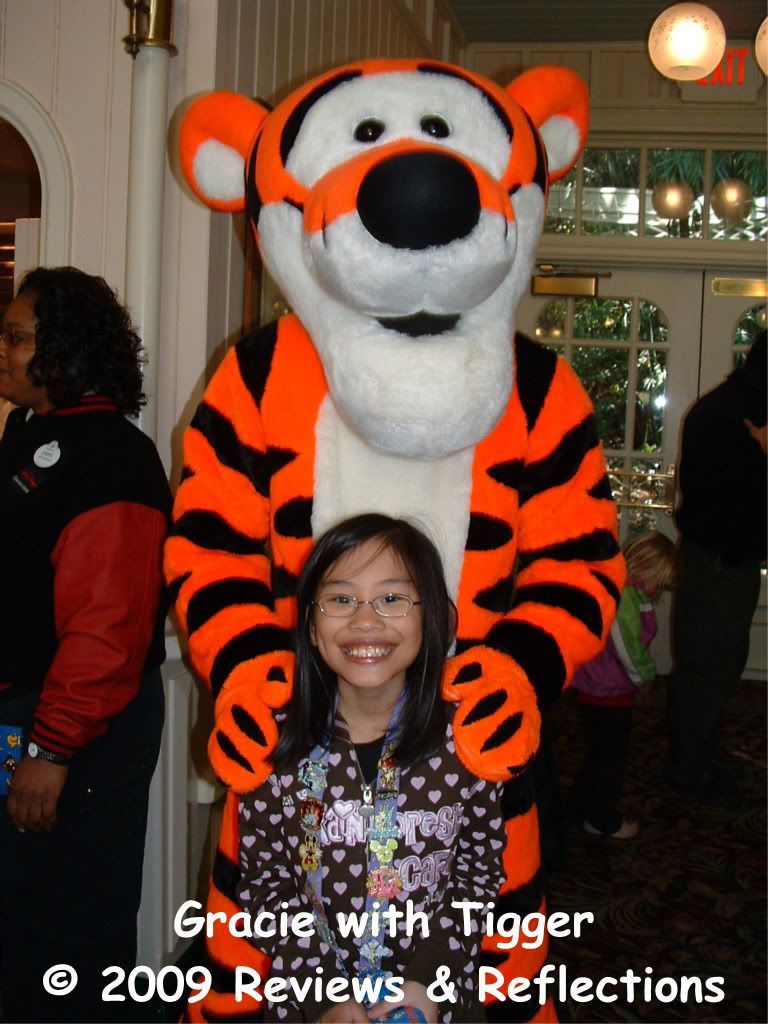 Even though the restaurant was full, the characters came around 2 or 3 times while we were there. They stop and visit, sign autographs, and entertain the kids. Even Adelie (our friend's baby), who was only 7 months old at the time, had a blast interacting with them (especially Piglet). The food seemed even fancier this time, and the kids really weren't all that impressed. I was trying to be positive about it, but we were comparing it to the meal we had the morning before - - -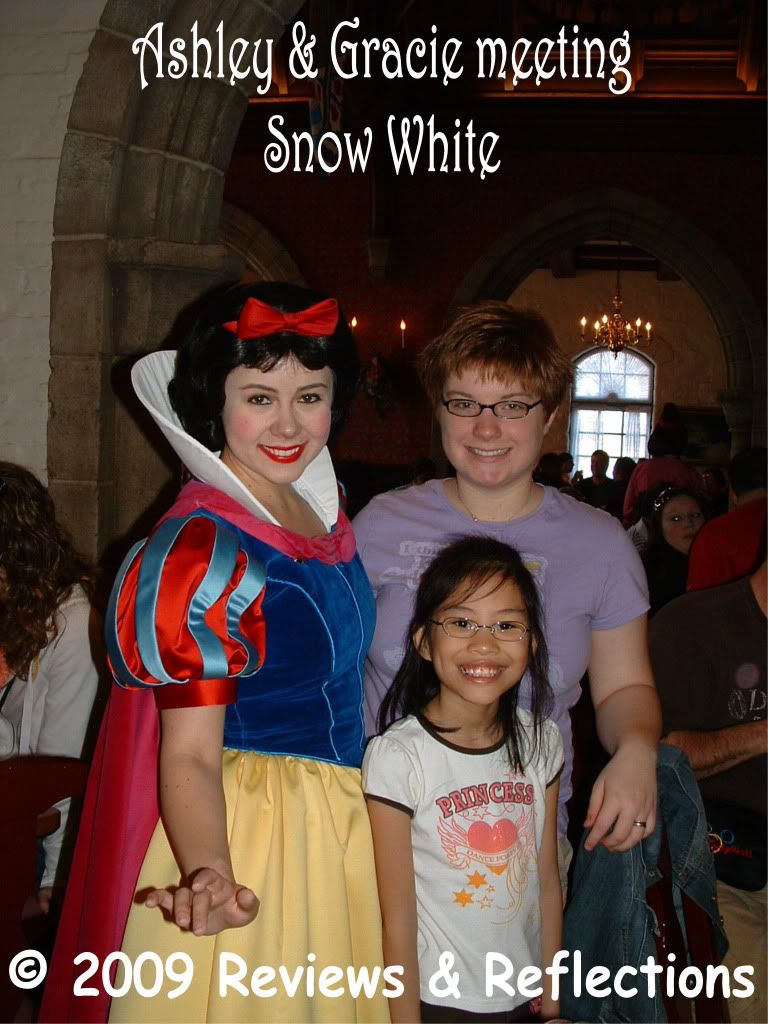 The 2nd meal the girls chose for that trip was the Princess Breakfast in Norway in EPCOT's World Showcase. We LOVED it! There was a buffet full of the most delectable fruit I've ever seen (and tasted) and pastries, etc. They also brought platters to the table - with sausage, bacon, scrambled eggs, and a very delicious potato casserole (that I'd love to find the recipe for!)
What was especially fun about this meal, though, is that the princesses actually talk to you! Each one came to the table and spent plenty of time chatting with the kids and signing autographs. Snow While, Aurora (Sleeping Beauty), Mulan, and Princess Jasmine were there for our breakfast date.
We were especially surprised, when we first arrived, to be ushered into a lovely little alcove area, where we were introduced to Belle and had a mini-photo shoot with her. While we were eating, they brought out an envelope containing photos from that session. We had no idea this was included in the price of the meal, so it was a nice surprise.

We would definitely do this meal again sometime, and would also highly recommend it!

~*~*~*~*~*~*~*~*~*~*~*~

Now, it's your turn. If you have a blog, please post your answer (along with pictures, if you have them) and come back here and sign the Mr. Linky so we can all see your answer. (If you don't have a blog, or you're reading via Facebook, simply leave a comment with your answer).

I'm especially anxious to read your thoughts on this topic as we're anticipating a mini-Disney vacation in May and want to select ONE character meal. We'd love to try one in a resort this year.