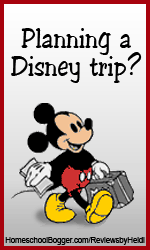 I've had a few people comment and say that they'd like to see Destination Disney resurrected. SO ---
with our upcoming trip to Disney in May (a "quickie" - we're really going to Orlando to represent TOS at the homeschool convention there), I'm thinking that we should go ahead and get started.
Will you participate?
I hope so! Please comment and let me know which day of the week works best for you. Of course, you don't have to post on the same day that I do. Just make sure you leave a comment and/or sign the Mr. Linky so that I can come and read your post(s)!
Will you help me spread the word about Destination Disney?
Please post about it on your blog or Facebook page, with a link back to my blog. Feel free to grab and use the button too. (I need to figure out how to get that great little copy and paste coding below it for my sidebar - any of you tech savvy people know how to do that?!) Tweet about it too, please! I'd love to see this really take off this time.