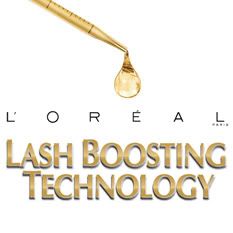 I received free mascara products from L'Oréal Paris®, as part of a BzzCampaign. I need to preface this post by saying that I am not, nor have I ever been, a mascara wearer. Truthfully, I'm a homeschool mom, who works from home, so my kids usually see me dressed very casually and wearing no make-up. I do wear make-up when I go out, but I've never been a fan of mascara. Why? Because I have little, stubby lashes that have always seemed like a lost cause.
I thought I was a prime candidate to test this product because they proclaimed that it would make my lashes appeal thicker, fuller, and longer. I was a bit of a skeptic, I'll admit. Here is what I looked like - before using this product - with no eye makeup at all:
See what I mean? Stubby! Here is another shot of my eyes, taken on Day 1 of using the Lash Boosting Technology System. This one is WITH the mascara:

Already, that first day, I could tell that this stuff worked! I was supposed to try it, daily, for 4 weeks, and share my results. Once again, I must confess that I'm a stay-at-home, work-at-home mom - there are just some days when I go makeup-free. But, after 4 weeks of sporadic use, I can see a HUGE difference. I think you'll agree.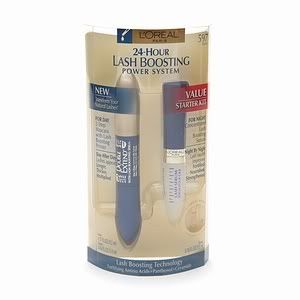 But, before I share the AFTER pictures, let me tell you a bit about the product. You can purchase the 2 products individually, or as a combo-pack (I received the combo pack and have seen it on display at Wal-mart for approximately $20).
The first step is the Lash Boosting Serum. Here is what the
L'Oréal website
has to say about it:
"Now, the lashes of your dreams are no longer an illusion! Thanks to our new Concentrated Lash Boosting Serum, get visibly fuller, thicker natural lashes with less lash fall-out when removing makeup. The breakthrough formula contains Centella Asiatica Extract and Arginine to reinforce, condition, and protect each lash. Apply daily under your mascara and at night to bare lashes to transform your natural lashes, and see more lashes in just 4 weeks!"
I will tell you that I NEVER remembered to apply this at night. I did, however, use it under the mascara every time I applied it.
The second step is the Double Extend Last Boosting Mascara. This is a mascara wand with two tips.
L'Oréal
can explain it much better than I can:
"Wishing for longer, lusher lashes? Double Extend Lash Boosting Mascara is the revolutionary new way to see them in 2 simple steps. Step 1: The Lash Boosting Primer is serum-infused to boost lash condition. It contains a pro-keratin complex that fortifies lashes and maximizes their appearance. Step 2: The Ultra-Lengthening Mascara Topcoat coats and lengthens lashes instantly, for an up to 80% longer, clump-free fringe."
The
Primer goes on white, so it's easy to see (and you're sure to get it over all your lashes).
I'm no longer a skeptic. This stuff really works. See for yourself. This is my eyes, this morning, before applying any makeup:


When comparing to the very first picture (above), I think you can definitely tell that my lashes are thicker, fuller, and more visible, just as the product label claimed! Sure, they're still not the long, luscious lashes that women long for; but it's a start!

Here's a shot with my eyes closed, after applying the mascara, that you can compare to the second picture (above):

I think you can tell that my lashes are longer and thicker (gee, I wish I had Photoshop and could get rid of those glasses marks on my nose and those few brows that need plucking!)

I'm kinda excited, too, because my lashes are actually starting to curl naturally at the ends. For some reason, my bottom lashes on my left eye appear visibly longer than those on my right eye. Not sure why, but just in case you care, here's a close-up: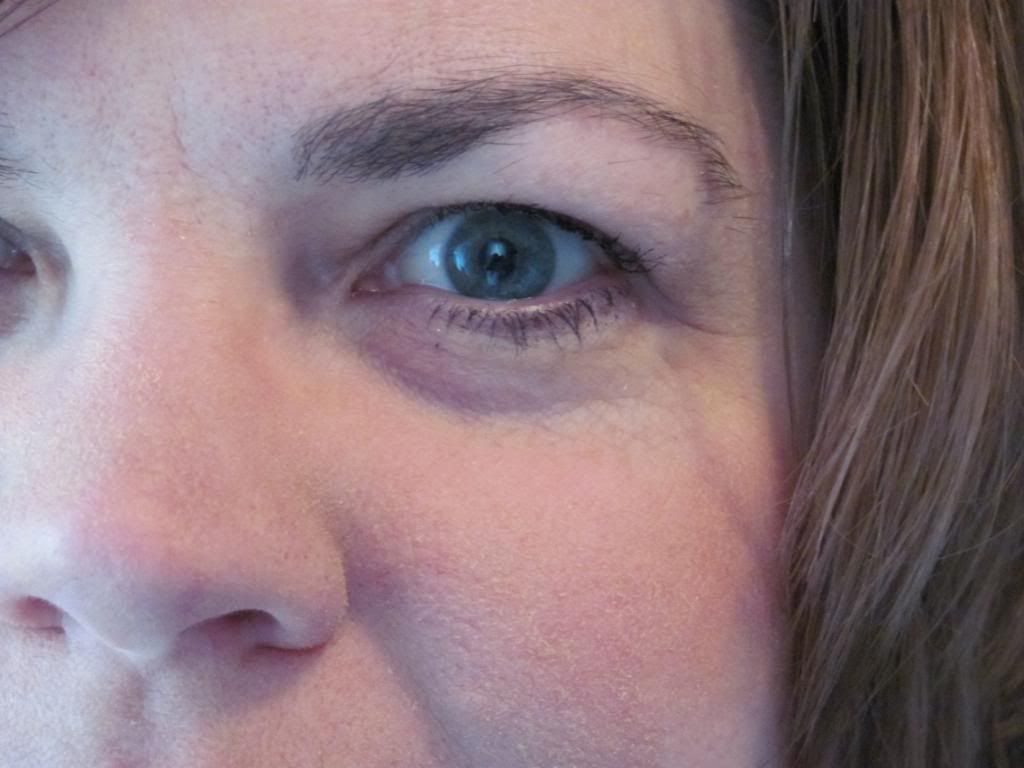 Overall, I'm quite pleased with the results and I'd even be willing to pay the $20 to purchase more of this stuff. I may have started out a skeptic; but I've tested this product and proven that it works.

What do you think?