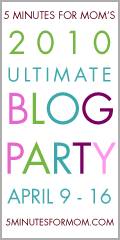 Are you planning to attend the Ultimate Blog Party, hosted by 5 Minutes for Mom?  I AM!  Not only are there some great prizes involved in the UBP, but you also have LOTS of opportunities to meet and make new friends with your fellow bloggers.  It's a great way to find blogs that you might not find otherwise. 
If you'd like more information about the UBP, just click on the banner to the left, or use this link.
Be sure to stop back here at Reviews & Reflections during the Ultimate Blog Party!