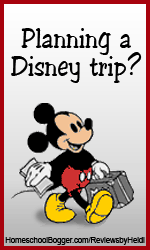 Welcome to this week's Destination Disney! 
There are a few changes that will be taking place with the Destination Disney meme ---
First of all, my dear friend Becky from There is Hope is going to co-host Destination Disney with me.  Becky and I have not yet had the opportunity to meet in person, but we've become fast friends. We share many common bonds that make us "kindred friends" – and one such bond is our love of all things Disney!  Becky lives in FL and gets to visit the Disney parks quite often, so I know she'll bring lots of great information to our meme!
Over the weeks to come, we'll have new topics and ideas to share with you, as well as introducing you to some other online Disney resources that we think you will enjoy.  Feel free to snag a button and participate in Destination Disney – the more the merrier.
Now, on to this week's topic ---
As homeschool moms, Becky and I want to know-
What is your favorite educational experience at Disney World?
We're going to switch to Linky Tools, instead of Mr. Linky, so that we can both post the link lists on our blogs.  You, too, can feel free to snag the linky code and post it on your blog as well! 
So answer the question on your blog – if you have pictures to include, please do so – then come back here and link up with your post's url.  It's that simple.  Hopefully we'll find lots of great educational opportunities at Disney!  My family will be visiting for 3 days in May, so I'm curious to read your answers this one!
I will answer in another post and link up here as well. :)