Not only is today the day that we start the Easter weekend celebration (by remembering Christ's sacrifice for us), but it's also a GOOD day to meet new friends in the blogosphere.  If you're stopping by my blog via one of the following blog hops, I hope you'll find something you like enough to FOLLOW ME!  Please leave a comment and let me know you were here. :)
I've been enjoying participating in the following opportunities to meet new blogging buddies.  Check them out ---
Here's how it works...

Add your blog link to the McLinky below ~ remember to leave your blog name under "Your Name"
Follow Trendy Treehouse ~ we will follow you back!!!
Grab the "Follow Me Fridays" button for your blog ~ so more blogs can share in the fun!
Follow Blackberry Jam Cafe and grab her button!
Follow other blogs that have linked up ~ Comment there letting them know you are now following them and visiting from Follow Me Fridays!
If someone follows you, follow them back, It's only fair. LOL
The more you follow, the more will follow you!
It's that easy!
~*~*~*~*~*~*~*~*~*~*~*~*~*~*~*~
Welcome to the April 2 Friday Follow celebration hosted by One 2 Try, Hearts Make Families and Midday Escapades! We invite you to join us every Friday to get more blog followers and to follow other interesting blogs. It is all about sharing and having fun.
Here's how YOU can join the Friday Follow celebration:
--Link up your blog name and URL using the MckLinky below. Only need to add on one blog to be seen on all the blog hops.
--Grab the Friday Follow button and include on your Friday Follow blog post.
--Follow the Friday Follow hostesses listed in the first 3 slots.
--Follow as many other blogs on the linky as you'd like.
--Take a moment to comment on the blogs telling them you're from Friday Follow.
--Follow back when you get a new follower through Friday Follow.
This list is new each week. The links do not carry over. Please link up each week for new participants to find your blogs. The list is only open to add your blog links on Fridays. It will be visible all week to visit the blogs listed.
~*~*~*~*~*~*~*~*~*~*~*~*~*~*~*~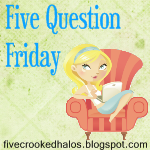 1. Do you sing out loud in the car when you're driving? Of course! Doesn't everyone? I'm picturing Buddy the Elf here - "I'm singing, I'm in a car and I'm singing!"

2. What would you never be caught doing? Eating peas. I find them disgusting.  As an adult, I could probably handle them if they were hidden in something – like a salad or casserole – but never on their own.

3. Will you go #2 in a public restroom? I'd certainly prefer not to, but it would depend on the desperation of the situation.

4. Have you ever broken a bone? Nothing that ever required a cast. But I have broken a toe once or twice.  Ouch!

5. Do you prefer cooking or baking? Cooking, definitely. I enjoy trying new recipes for supper.
~*~*~*~*~*~*~*~*~*~*~*~*~*~*~*~*~
This week I'd love to know when everyone's birthday is. You don't have to give your birth year (if you don't want to) so month and day will do just fine. :)
Add a link to your main blog
Visit the blog of the person whose name is above your name in the list and comment on their blog.
Visit as many blogs as you can and leave comments telling them you are visiting from New Friend Friday at The Girl Creative.
There is no obligation to follow everyone who follows you. Please just follow the blogs that are of interest to you. :)
So, grab a button, post it somewhere on your blog and get ready to make some new friends!
I just celebrated my 40th birthday on March 20th – so it should be pretty easy to figure out the year!