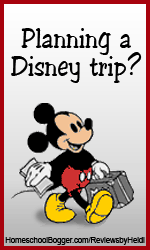 We'll be taking a brief break from the Destination Disney meme for the next few weeks.  This week, I'm busy packing for our Disney trip – and next week I'll be at Disney.
I will be posting – LIVE – from Florida next week, so be sure to check in often for Disney pics and other fun Florida updates.
Becky and I would like to put together a new schedule for Destination Disney.  We need YOUR HELP!  If you have ideas for topics you'd like to see featured, please e-mail me.  We want this to be YOUR MEME, as much as ours.  I do have a short list here, but I'd love to add your ideas too.
Destination Disney will be back up and running on Monday, June 7th.  See you then!