This post was originally titled "Heidi, Heidi, in PA residing, how do you make your portfolio?" and was posted here on July 27, 2009.
I mentioned our homeschool portfolios on my Facebook page today, and someone asked if I could share pictures and explain how I put our portfolios together (thanks, Isabelle!).  Since I've been so lax at blogging lately, I thought this would make a great blog entry (which feeds into my Facebook page, so everyone can see!)  So, this post is a step-by-step on how to put together a portfolio (my idea – please take it and rework it to fit your needs), and the  value of keeping a portfolio (even if you don't have to).
People panic when they hear that we homeschool in PA.  Apparently, PA has a reputation for being one of the more "uptight" states when it comes to homeschooling.  I don't know if it's just my county, or if everyone is panicked over nothing; but homeschooling in PA is really not that hard to do.  One thing that is required of us, though, is turning in a portfolio (of each child's work) at the end of the school year. 
Here are the porfolios we turned in this year:
As you can see, I like to use the comb-binding machine to put our portfolios together.  The reason for this is two-fold:
It makes a much nicer keepsake
As opposed to a 3-ring binder (which most people use), it takes up so much less space on the bookshelf (or wherever you might like to store yours – we keep ours out so they're handy to pull off the shelf, look at, and share).  Here's how we store them:

(sitting on the top of the bookshelf, right next to all my back issues of TOS)
Here is the way we go about preparing for our porfolio throughout the year.


We start out with a 3-ring binder for each girl, like this:
 (this pink one is Gracie's, Ashley's is blue – this way it's easy to see whose is whose)
Inside the binder are 5 folders, like this:
These folders are labeled:
COVER SHEETS & AWARDS – this one is where I keep a copy of their Course of Study for the year, as well as educational objectives, and any awards or certificates they receive throughout the year.  This is a sample of Gracie's, which already contains her certificate from attending VBS:
LESSON PLANS – as we go throughout the year, filling our lesson plan forms, I move them from the front of the binder into this folder.  You can see Gracie's planning form above; here is a close-up:
I know I'm the co-creator of The Schoolhouse Planner and it seems rather hypocritical of me to make up my own planning form, but I'm silly that way.  Each year, we make up new forms for each girl – one that totally coincides with their curriculum for that particular year.  Also, though my planner pages are set up for 5 days per form, they are not labeled Monday, Tuesday, etc.  Mine have blanks to fill in the date and the # of the school day (1-180).  This way, I don't have to feel like I'm messing up if we only school 3 days one week, or if we want to do school on a weekend to make up or whatever.  And, I never fill these in ahead of time – we write out our plans each day, as we do them.  This is so much better for my personality (that freaks when I need to use white-out!)
PROGRESS REPORTS – though we normally teach to mastery, we do like to keep track of grades, and I always make up my own progress reports as well.  Here is one from Ashley's portfolio this past year: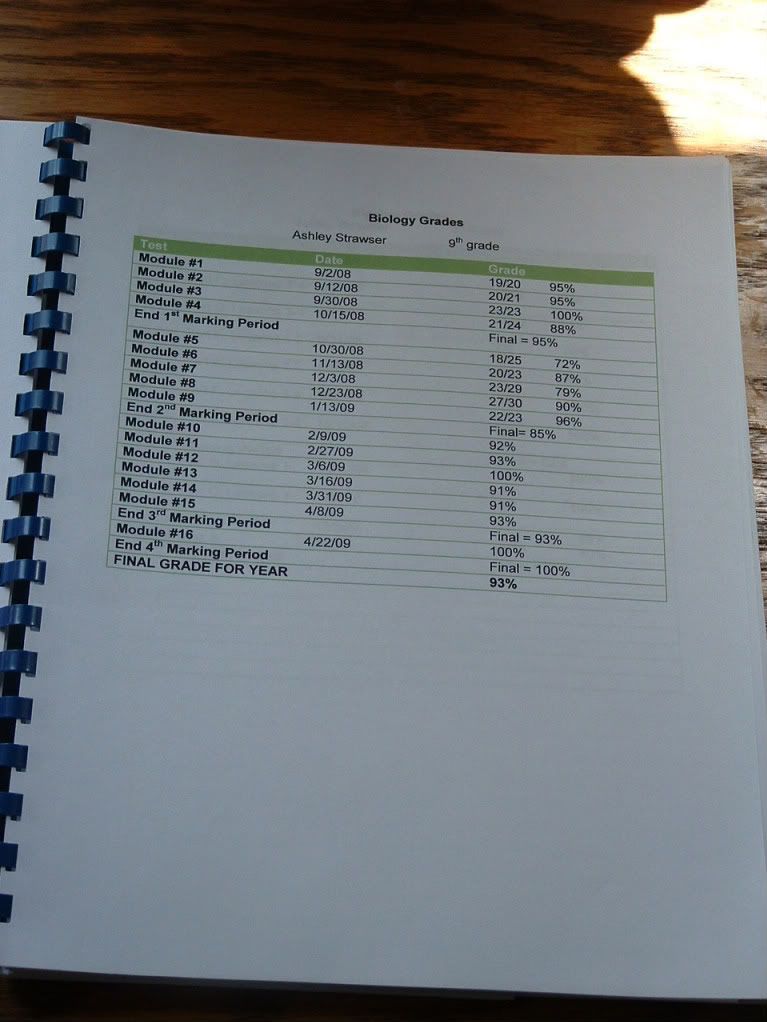 SAMPLES & ARTWORK – I fill this folder with Gracie's artwork throughout the year.  If we do something we think is really "portfolio worthy", we'll put it in this folder right away.  Otherwise, this one gets filled at the end of the year when we're looking for things that might impress our evaluator!
FIELD TRIPS & PHOTOS – as we go on field trips and/or complete science projects, we make "digital scrapbook pages" of them to put into our portfolio.  Gracie's current folder (for 2009-10) already looks like this: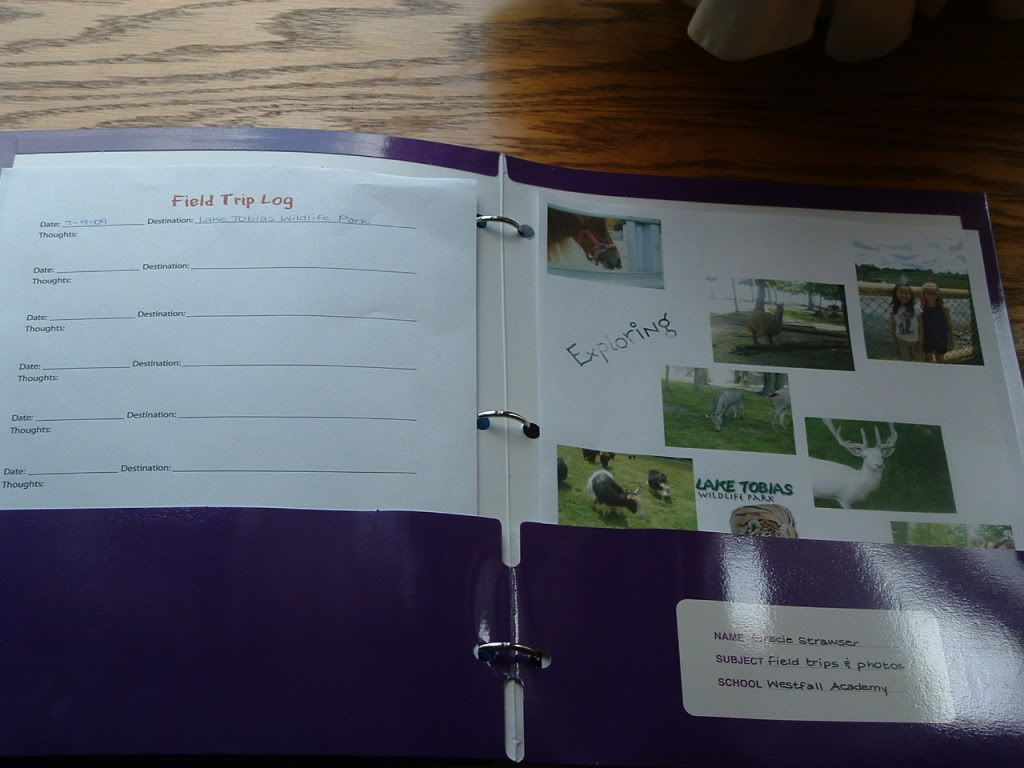 You might recognize the "Field Trip Log" on the left as the one from The Schoolhouse Planner.  We like to track our field trip days on this form.  Once our portfolio is put together, it looks more like this (these samples are taken from Ashley's 08-09 portfolio):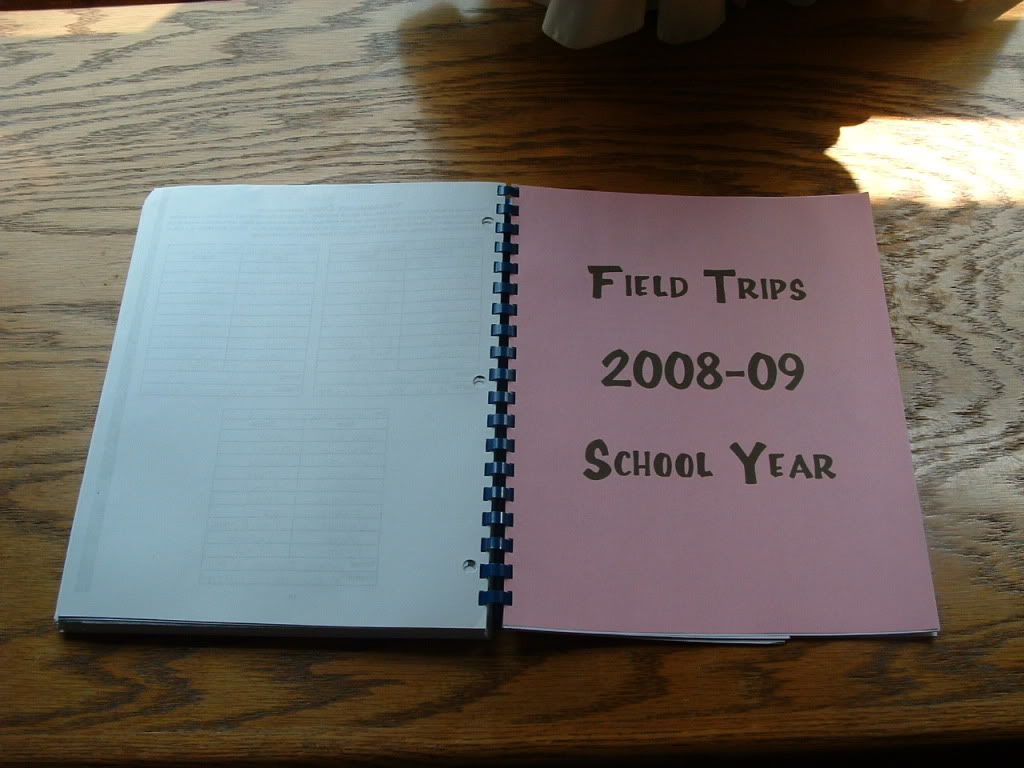 (Isabelle, you may notice these pictures as part of our field trips with you guys last summer!)
Once we've completed our school year, we take all the forms that are in the 5 folders, and compile them into the nice comb-bound books you see here: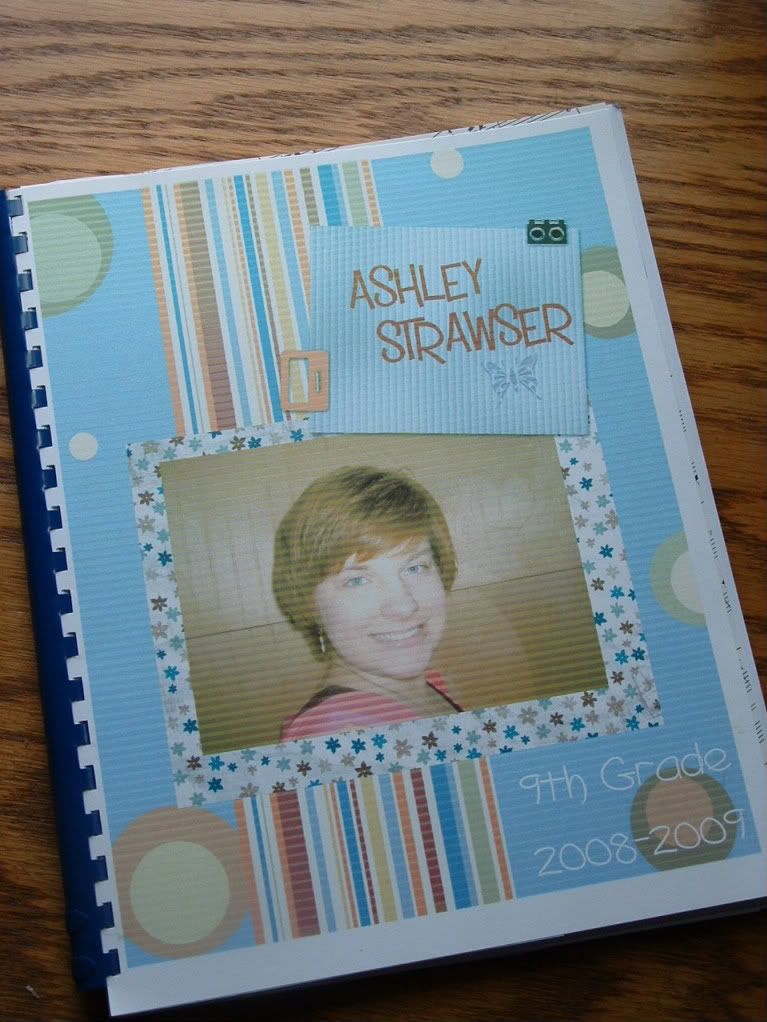 And when I go to pick them up at the school district office and see nice words of affirmation on them, it makes me happy! 
  Here are the notes from this year: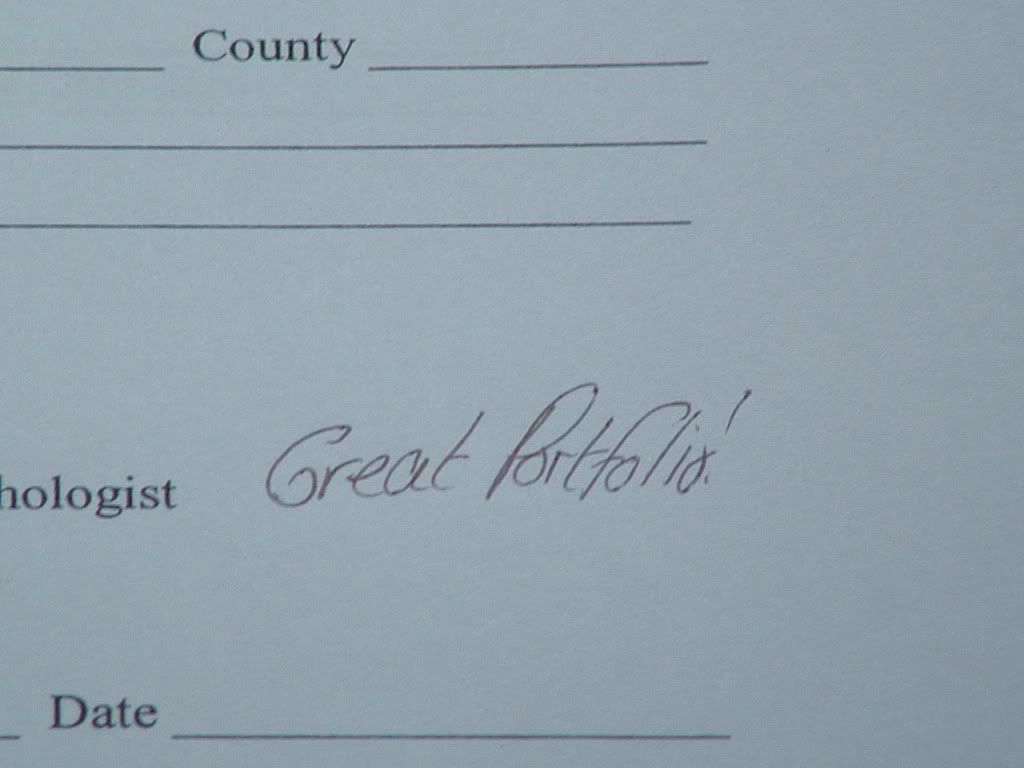 (Ashley's)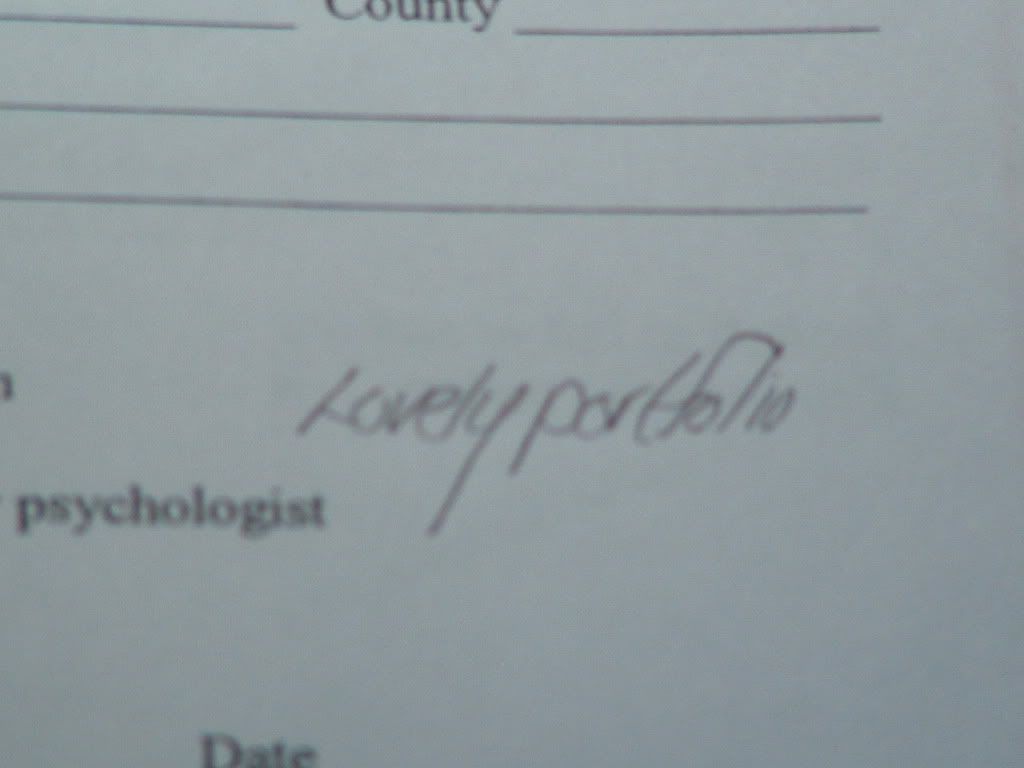 (Gracie's)
The nice thing about these portfolios is that what goes into them is all that we save each year.  This is really something because I come from a long line of packrats.  I believe the "packrat syndrome" maybe came about because my grandparents were poor and had 11 kids; so when they got something of value to them, they saved it.  Many of my aunts and uncles have carried on this trait.  My own mother saved every single school paper I ever brought home – she even saved all the Trapper Keepers and binders!  When they moved about 10 years ago, I inherited all of it.  Though it's fun to look through, we simply did not have the room to keep it all (especially when we decided to convert our attic into a bedroom for Ashley). 
Once we've put our portfolios together, everything else goes (what's left of the workbooks, worksheets, etc.)  We do make some lapbooks and notebooks for various subjects and we save these things as well (pictures of them often make it into the portfolio).
And lest you think I'm a total doofus, I must say that I really do use my Schoolhouse Planner.  I actually have 3 of them saved on my computer – one for each child – and we have some favorite pages that we are filling out already (and will definitely take up residence in our 09-10 portfolios):
Course of Study (page 149) – we use this one or make our own, which looks essentially just like it – the one in the planner is my original creation, used for years
Beginning/Ending Page (page 150) – I think I'll use this one for Gracie and Ian this year
Educational Objectives (page 155)
End of Year Report Card (pages 158 – 159) – I'm not sure yet which one of these we'll use this year
High School Transcript (page 160) – I already have Ashley's transcript started – the one in the planner is a model of mine  (this one will NOT be in the portfolio)
Bible Memorization Record (page 190) – this form is an awesome way to track the memory verses your kids learn throughout the year, ours already has the  verses the kids commited to memory at VBS this summer
Memory Work Record (page 191) – this one is for other things that are memorized
Audio/Video Log (page 192) – I love the idea of this form; we've always tracked all the books read and used throughout the year, but I've never thought to actually log audio and/or video items – this form will be a great addition to our portfolios this year
Books Read This Year (page 193) – I print this form out and the  girls each have several of them in the back of their binders – they fill them in as they complete a book and let me know when it's time to restock with more forms!
Crafts Completed This Year (page 194) – this one is one that Gracie will be using (Ashley hates crafting)
Field Trip Log (page 196) – I mentioned this one above, but wanted to list it by page
Science Lab Sheet (page 212) – we will use a combination of this form and some new ones that will be coming when TOS releases a brand new line of unit studies in September! 
Attendance Chart (page 228) – this is another one that I printed out and the girls can check off as we go along – just a nice visual to see how many days we have left
Community Service Record (page 229) – we'll use this one for Ashley this year – she occasionally volunteers at the local thrift shop and/or helps with various things at church
General Book Report (page 230)
Educational Activities for Preschoolers (page 253) – I'm going to use this checklist for Ian this year
Yes, Ian will have his own portfolio this year.  Though he won't be doing 180 days of school, and we don't have to turn anything in for him, he likes to be a big boy and do schoolwork when the girls do, so I'm keeping track of things, and figure it's never to early to start his keepsake portfolios as well!
Hope I've given you some ideas.  Please feel free to ask any questions or share your portfolio ideas in the comments.
UPDATED 8/25/10 ===> We picked up our portfolios at the school district office today.  It's always nice to know that we've successfully completed a school year.  And, although we're already started on our 2010-11 school year, it's nice to have some affirmation of our 2009-10 year.  I was pleased to see these notes in the girls' portfolios (I'm sharing the covers too):
 

I hope I've encouraged you!  I'll have to create a new post about the 2010 Schoolhouse Planner and all the neat forms that we're using this year.  Oh, and the Students Planners (soon-to-be released but available now at awesome presale pricing) --- we've duplicated my planning sheet and will be including 36 copies of it in each Student Planner (enough to plan all 180 school days right on your computer!)