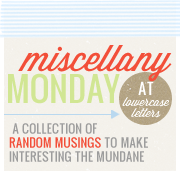 I'm so stealing some of Carissa's thoughts this week; others are entirely my own. :)
1. Fonts rock!  I received an e-blast from TOS this past week, and had to e-mail the designer to find out what the font was called.  Now that is font addiction, people! 
2. I enjoy fall and all the colors and smells.  The pumpkin dessert I made yesterday made the house just reek of fall!  I just wish it didn't mean that winter was right around the corner.  I hate winter!
3. My kids like hanging out in their pajamas all day and I wouldn't even care – but what about when someone knocks on the door unexpectedly?  How embarrassing!
4. It's raining and chilly here today – and it's supposed to be like this through Wednesday or Thursday.  How will this solar-powered girl adjust?  Ugh!
5. I listened to Dr. Wile talk at the Schoolhouse Expo earlier today – his topic was "Where Are They Now?" and was about homeschool graduates.  Pretty amazing stuff and statistics!  Glad I was able to listen in.
6.
I just received the Versatile Blogger Award from Debbie at Debbie's Homeschool Corner.  Thank you, Debbie!  I really don't feel very versatile, but I'm going to accept the award anyway!
7. My washing machine is not spinning out properly.  I often have to spin it through a 2nd time – frustrating, especially on a Monday!
8. Thank goodness I create a basic menu plan before I go to the grocery store!  Now, if I could just get in the habit of deciding the night before what I'm going to prepare.  This last minute "what's for supper" rut we're in is driving me crazy!