***I added a grab button for the Destination Disney meme to my sidebar.  If you're participating – or even if you'd just like to help promote the meme – please  grab the button and put it on your blog!  (Shrinking the button makes the blog url's impossible to read, but it's still cute!)  If you'd like the full-sized button to use in your posts, just e-mail me.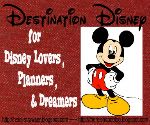 ***Brian informed me today that we have 954 Disney points racked up on our Disney Visa.  (Happy Dance!)  That'll easily cover our two character meals, among other things. :)
***I'm expecting the arrival of a great-looking Disney book/resource that I'll be reviewing here on my blog.  I'm not going to tell you what it is, though --- I'll let it be a surprise!
***Do you have any ideas for future Destination Disney topics?  So far, this year, I've just been "flying by the seat of my pants", which really isn't my personality, but it's working, I guess.  I've got so many Disney thoughts rolling around in my head!  But, I want this meme to be fun for YOU too – so if you've got ideas or if you have questions about Disney that you'd like to have answered, please do share.  Either leave a comment here, or e-mail me. 
***Do you have a Disney Store or a Disney Outlet Store near you?  If so, you may want to head over – they've got some great sales going on.  We scored several kids' t-shirts for $2.99 each yesterday.  Adult tees are on sale for $5.99.  There are several mugs on sale for $1.99 and Disney-themed kids' cups for $2.99.  I could spend hours in that store, but maybe it's just me.