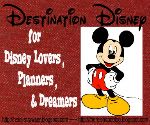 Welcome to Destination Disney!
I'm so glad to have you here!
Don't forget about the Special Edition Topic ---
There's still plenty of time to link up your photos and posts
about your matching Disney shirts!
As we move through the alphabet on our Destination Disney journey, we're ready for the Letter I this week.
I
Use the Letter I as your inspiration. I know you're probably thinking this will be a hard letter, right? Well, here are some ideas to get you started – Illuminations, Indiana Jones Epic Stunt Spectacular, Innoventions, Italy, and It's a Small World – and the list goes on and on and on . . .
So go, get busy! Post those Letter I things on your blog (with pictures, if you can) – then come back here and link up! I'll link up my post too!
FYI: Check out our past weeks' letters:
If you want to link up for past week's topics (with the exception of the most recent), just leave a comment on the post with a link to your direct post. Thanks!