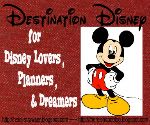 When I posted Friday's Destination Disney weekly topic, I made a special announcement. As a result of that announcement, I've had "Disney on the brain" more than usual (and that's a LOT!) I have so many thoughts rolling around in my mind that it's almost ridiculous.
Since we are taking advantage of the free dining plan on our next trip, I had a blast planning and reserving 7 sit-down meals for our family (can't wait!)
I had fun researching all the sites to see which was the best day to visit which park and start making a calendar/spreadsheet.
I've been perusing my Disney planning guides more than usual these days – and have been asking the kids for their opinions on our "absolute must-dos" to add to our lists.
I've been visiting my Disney friends blogs even more than usual – just getting a big-time Disney fix!
And one thing that keeps popping into my head over and over again is the need to acquire/create some matching shirts for us again. In 2009, we traveled with friends (who had never been to WDW before) and we wanted to go all out – making a magical experience. We created 3 sets of matching shirts for our group:
I don't have any pictures of the 3rd tee on this computer, but they were done on tan tees, and had each of our names on them in a Disney "castmember" nametag.
Now, my family would never even want to consider dressing alike on a normal day. So, why is it that we have so much fun doing it at Disney? For one thing, it makes it much simpler to find your group if you get separated. But, for another, it's just one more bit of Disney magic!
ºoº ºoº ºoº ºoº ºoº
So, I really, really want to hear about you ---
do you and your family do matching shirts?
And, if so, I'd love to see pictures and hear either
where you got them or how you created them.
I need ideas for our next trip
(I have some, but would love more!)
Get your posts up and come back here and link up. (It's ok to link to an old post, if you've shared about your shirts in the past!) The more the merrier – if you have friends that aren't regular DD participants, but you know they have matching shirts to share, please tell them to come link up. I'll leave this linky open for longer, just in case.
get the InLinkz code