Earlier this week, I was having a hard time believing that it is already September . . . now I'm having trouble believing that today is Friday. Hence, the lateness of posting this . . . .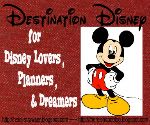 Welcome to Destination Disney!
I'm so glad to have you here!
Don't forget about the Special Edition Topic ---
There's still plenty of time to link up your photos and posts
about your matching Disney shirts!
(I've created 2 sets of matching t-shirts for our next trip and have the inspiration for another set floating around in my head – I'll get pictures posted soon!)
As we move through the alphabet on our Destination Disney journey, we're ready for the Letter J this week.
J
Use the Letter J as your inspiration. Here are some ideas to get you started – Jungle Cruise, Journey into Imagination with Figment, Japan Pavilion, JAMMitors – and the list goes on and on and on . . .
So go, get busy! Post those Letter J things on your blog (with pictures, if you can) – then come back here and link up! I'll link up my post too!
FYI: Check out our past weeks' letters:
If you want to link up for past week's topics (with the exception of the most recent), just leave a comment on the post with a link to your direct post. Thanks!