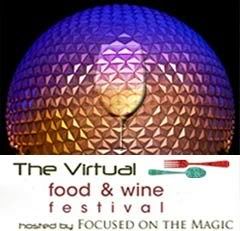 My friend Debs from Focused on the Magic had the brilliant idea for some Disney bloggers to host a "virtual" food & wine festival in honor of the "real" one that's going on at one of our favorite places – Epcot! Since many of us can't actually be there to celebrate and savor the festival, we thought we'd share some of our favorite dishes from around the world right here on our blogs to share with everyone!
If you'd like to join in the fun by sharing a culinary favorite from another country, you're more than welcome. Debs is keeping the festival open through November 13th, so you've got plenty of time to cook, share, and link up!
When we first started talking about this, I immediately thought that I'd share a recipe from Italy. I absolutely adore Italian food. I often joke that it's a good thing I'm not actually Italian, or I'd weigh 500 pounds! Italian is definitely my go-to when thinking of foods to prepare for company. My lasagna is often requested for family gatherings. Stromboli is another family favorite. My dad requests this for his birthday each year, and it's also become a traditional Christmas lunch in our family.
It's so simple to make that I'm not sure why we don't have this more often than we actually do! My dad's birthday was a few weeks ago; so, while I was preparing his dinner, I took pictures of the process. I've been putting off posting this, however, because I forgot to take "after" pictures (not after eating, but after baking!) I thought I'd just treat my family to Stromboli someday this past week; but I ended up being sick most of the week, so that never happened. Anyway, next time we make it, I'll try to remember to take a picture to share in this post.
What you will need (to make one Stromboli – we often make 2 or 3, or more!):
One loaf frozen bread dough, thawed (I usually put mine in a greased bread pan and thaw overnight)
5 slices of ham (we always buy turkey ham, but your favorite will do)
5 slices of provolone cheese
6 slices of hard salami (the small stuff – not the stuff with those yucky black things in it!)
shredded mozzarella cheese
pasta sauce (I only ever use Prego, but use whatever brand you prefer)
1 egg, whipped
parmesan cheese
Italian seasoning
Step-by-Step:

1. Plop your bread dough out onto a well-floured surface (I just use my countertop).
2. Use a rolling pin to spread your bread dough out into a shape resembling a rectangle (note that mine is far from perfect!). That lovely rolling pin belonged to my Nanny – I watched her roll out many a pie crust with that rolling pin – it's a treasure to me, but never gets used on pies these days!
3. Add a row of ham, off to the one side of our rectangle (notice the overlap).
4. Top with a layer of provolone cheese.
5. Next add a layer of salami.
6. Top with some sauce (I usually use about 3 spoonfuls and spread it out – anymore may cause your Stromboli to burst and the sauce to spill out).
7. Add a few handfuls of shredded mozzarella (this isn't an exact science!)
8. Pull the empty half of the dough up over the filled side and pinch the edges to close.

9. Transfer your Stromboli onto a cookie sheet (I always spray mine with cooking spray to keep it from sticking).
10. Using a pastry brush, spread the egg over the top of the Stromboli, then sprinkle with parmesan cheese and Italian seasoning, as desired.
11. Bake at 350 until Stromboli is nicely browned (at least 30 minutes).
12. Let cool for at least 5 minutes before cutting. Serve with extra sauce for dipping.
Variations:
*This is my base recipe for Stromboli. We've tried it with other meats, cheeses, etc. but this is what we like the best. Feel free to mix it up and try your own favorites. Some people prefer to use pepperoni in place of the salami.
*I always make more than one! Usually I make at least one with peppers and onions in them (I brown them first and add them on top of the sauce, but before the mozzarella cheese).
*We also enjoy Cheesesteak Stromboli. To make this, I just use Steak-ums and tear up the steaks, brown them, and drain off all the grease. (I like to add onions and peppers to the steak while browning.) You need to let this mixture cool before adding it to the rolled out dough (otherwise it melts the dough and makes it impossible to transfer to the cookie sheet – ask me how I know this!) Once it's cool, spread it out on the dough, and add sauce and shredded cheese of your choice.
If you decide to try my Stromboli, I hope you'll let me know what you think! ENJOY this little taste of Italy, right in your own home! To see more Food & Wine recipes, click the links below.