Last week, we completed our
10 Weeks of Disney
series! Yeah!
(Remember, there is still a week left to link up to last week's topic if you didn't get to do so yet. If you're catching up from prior weeks' topics, you can simply leave a comment on the appropriate post with a link to your post on your blog.)
Now, we are ready to move on to our new series -
Disney in Color
This week, let's focus on the color
RED
I'm not going to give any direction for these posts except to say USE YOUR CREATIVITY! You have free reign here – I only ask that your posts are Disney related in some way. So, even if you've never been to a Disney park – you can play along! Maybe you have a red Mickey bowl that you serve chips & dips in. Share a picture!
Now, go post your answer on your own blog. Be sure to include pictures (if you can) – we all love seeing the pictures! Then, come back here and link up with the DIRECT url of your post (please do NOT use the link to your blog alone). I will leave the linky open for 2 weeks, so you have plenty of time to link up. However, a new topic will be posted next Thursday.
Take the time to visit the other links, read their lists, leave comments, follow their blogs, and make some new friends! Feel free to grab the coding on the button below to use in your Destination Disney posts. (I'd love for you to display it in your sidebar also!)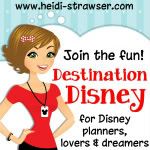 Here is our full list of colors for the next 13 weeks, so you can plan ahead:
May 31st – RED

June 7th – BLACK

June 14th – YELLOW

June 21st – WHITE

June 28th – TURQUOISE/TEAL

July 5th – SILVER

July 12th – BLUE

July 19th – ORANGE

July 26th – PINK

August 2nd – BROWN

August 9th - GREEN

August 16th – PURPLE

August 23rd – GOLD

Afterwards, we will have a 2 week break before heading into a new series.
If YOU have an idea for a future series of Destination Disney posts, please e-mail me. I'd love to feature your idea!