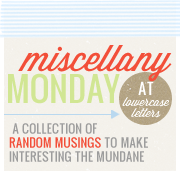 [1] I'm sitting here in a silent house; well, except for 2 snoring dogs. Brian & Ashley are off to work, Ian spent the night with my mom, and Gracie is enjoying a much-deserved morning of sleeping in. Ian is so loud (he's wide open and full blast, that boy!); and I often find myself longing for some peace and quiet. Then, at times like right now, when it actually is quiet – I almost can't stand it. Notice I said "almost" – I'm going to try to enjoy it.
[2] This past week was a busy one for us. Gracie performed with the Central PA Homeschool Orchestra. And, yes, I might be a teeny bit proud of her. Just a few years of lessons, and she was chosen to play First Violin! Here's a video of one of my favorite selections from the orchestra:
[3] As if performing with the orchestra wasn't enough for one week, Gracie also had her violin recital yesterday afternoon. (Hence the reason why I said she's enjoying a "much-deserved" opportunity to sleep late!) After 2 1/2 years of lessons, this was Gracie's 1st recital (last year, we were in FL and missed it). She said she was nervous to be performing on her own (she got used to having the orchestra to back her up!) Anyway, I think she did a great job!
[4] We left directly from the recital yesterday to go see Tim Hawkins LIVE (for the 3rd time). You'd think we'd have gotten our fill of this guy by now (I mean, we do have all his dvd's) – but can you ever truly get enough laughter in your life? I think not. Here was a new song we hadn't heard him do before and found quite funny:
[4] My parents celebrated their 45th anniversary this past weekend. 45 years! They shared their special day with Ashley and I at the Dutch Apple Dinner Theater. Ashley has always loved Annie, Get Your Gun. I must admit, though, the show didn't quite meet my expectations this time. But, the food was yummy.
[5] I don't like to think of myself as a snob, but when it comes to eating out, I guess I sort-of am one. There for awhile, we were watching Man vs. Food via Netflix and I was appalled at some of the places that Adam Richmond went in to eat. On our way to Florida earlier this year, we met up with friends in S.C. who took us to a traditional Carolina barbeque place. It was pretty much a dive (that I wouldn't have chosen just driving by), but the food was yummy! Over this past weekend, we've passed a few dive joints locally. And, it got me to thinking --- I think I'm going to start a new monthly blog series about some of these places. Yes, I'm actually going to give them a try and we might even share some videos! Anyway, watch for Dining the Dives – coming soon to Heidi's Head! Maybe you'll even want to join in the fun!