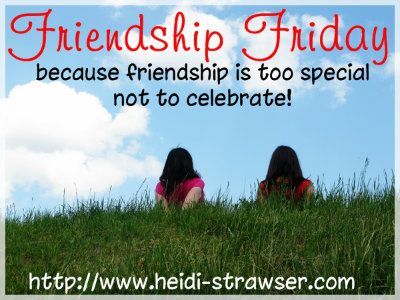 Last week, I told you about my idea for a new weekly blog post – Friendship Friday. I hope that, if you read that post, you've been spending this week thinking about friendship – and maybe even a specific friend that you're going to blog about today (or this coming week). At the end of this post, you'll find a linky where you can link up your blog posts about friendship. The goal here is to visit these blogs and make even more new friends!
My intention was to sit down and make a schedule of the friends that I want to feature each week; but then I thought maybe it would be more heartfelt if I post about the person that God lays on my heart. So, as we go through this series, my friends will be shared about in random order – not by who I like the best! I just want to make that perfectly clear because each and every one is special and unique and deserves to be bragged about on my blog!
Now, let's get started . . .
---
The other day, I blogged about
some of my personal experiences from this past year
. In that post, I talked about my friend
Brenda
. She's been a very special person in my life for several years now, and I'd like to introduce you to her.
Several years ago, I had 2 friends going through marital difficulties at the same time. One of them just so happened to be my assistant at my job. The quality of her work went way down, and I ended up having to let her go. This left me in a bind, and desperate to find someone to fill her shoes. I interviewed several applicants and one stood out – she had ideas and ways to make them happen. Honestly, at the time, I really didn't "know" her, but I just had a feeling that she was THE ONE.
It's funny, because I had no idea at the time that, by hiring her as my assistant, I'd be making a wonderful friend! Brenda did a whole lot more than fill my previous assistant's shoes!
Over the years, in addition to working together, we've developed a great friendship. You know, God always has a much bigger and better plan for our lives than we could ever ask or imagine and this was just one example for me. I don't do well with change; but this was a change that has turned out to be wonderful on so many different levels!
Back in 2010, after working together for awhile, I finally got to meet Brenda (at a homeschool convention in Cincinnati, Ohio). We connected immediately, as did our families! My oldest daughter refers to Brenda and her hubby as Aunt Brenda and Uncle Shawn (even though that's not really his name!) Here's the one and only picture I have of the two of us together (taken at that convention):
Brenda and I have come a long way over the years. Now, we manage a website for homeschoolers, called Homeschool Mosaics. And, most recently, we've decided to take that to the next level, by adding a product review team to the fun. So, our latest project is a new website called Mosaics Reviews. If you're a a review reader, or a review writer, you'll want to head over and "like" our Facebook page (because, next week, we'll be announcing a sign-up for review team members!).
These days, Brenda is not only my business partner, but she's my friend, first and foremost! We finish each other's sentences. We joke that we share a brain (and some days it's more than a joke – it's reality!) We almost always find that we agree on things; and, when we don't agree, we reasonably listen to each other and come up with a compromise that works. I think we go together quite nicely and I can't imagine my life without her filling this special role in it!
If you'd like to learn more about Brenda, you can visit her blog or follow her on Facebook. Be sure to tell her that her friend Heidi sent you!
---
get the InLinkz code