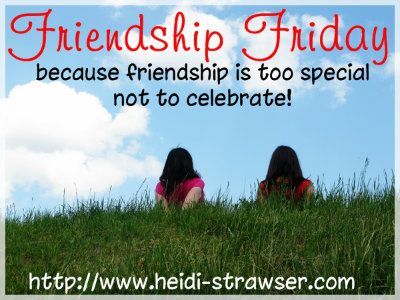 When I set out to start this series of weekly posts, my goal was to bless those who have been and are my friends. However, I find that I am receiving blessings from it as well!
Here are some of the responses that I've gotten from the friends I've chosen to feature so far:
"Well now I am crying! Thank you so much. I am so glad that I got to meet you and your awesome family and I truly feel blessed having you in my life."

"Thank you so much for your kind words about our friendship! I am so touched by your post and thankful that even though we don't see each other as often as we'd like that our friendship still means as much to you as it does to me. I miss working with you!! I love you right back!!!"

"WOW! What a REALLY nice surprise :) Thanks so much Heidi! You've always been like a real sister to me that I never had. You just about made me cry with the last part of coming back at the 'right time'. I truly believe that was the Lord's doing. My first memory is the friendship you initiated when I first came to a new school in 9th grade. You quickly became my friend and gave me a birthday gift (which was right after school started). Do you remember the little pink heart necklace with a rainbow on it? I believe that was what you had given me. I'm really appreciative of our friendship and glad we could reconnect after all these years. Love ya back! I look forward to continued friendship in the years ahead. It's SO GOOD to have a good friend near by that can share both past, present and future with you :) You made my day with this little gift :) Thanks Heidi :)"
Are you honoring your friends? If you haven't started yet, that's ok – make a commitment to start this week! If you have a blog, post about one of your special friends. Trust me when I say that you'll be blessed by doing so! Don't forget to come back here and link up!
Now, moving on to this week's introduction . . .
---
A long time ago in a galaxy far, far away . . . Oops! Wrong lead in. That's Star Wars, isn't it? I'm going to leave it, though, because it honestly feels like a lifetime ago that I met my friend, Ginny.
Remember when people were first starting to blog? Doesn't that feel like forever ago? It does to me! I remember reading about a blogging platform just for homeschoolers. I love writing, but I've never been able to maintain a journal. I wasn't sure how I'd be at blogging, since it's essentially an online journal. But, surprise, surprise! I was actually not half-bad at it!
And blogging at that platform for homeschoolers was a great way to meet others who were in the same homeschooling boat that I was in! And that's how I first met Ginny.
Right away, there was a connection there. We had things in common besides homeschooling – she had a son about the same age as my oldest daughter, so we were on about the same page with our schooling – but she also shared my passion for organization, among other things. We chatted through our blogs and via e-mail and we became really close, despite the fact that we'd never met face-to-face. I knew she was there, and that I could call on her when I needed a friend to talk to or to pray for me.
Not long after that, I started working for the company that owned that blogging platform. And, several months later, when they were looking for someone else to join the team, I recommended Ginny! I'm so glad that I did because, as a result, we were finally able to meet! Here we are together at a staff meeting:
This picture was taken in the fall of 2008, so only 4 years ago. When I look at it, it feels like SO long ago; and I feel like I've aged A LOT in these past 4 years.
Little did I know at that time, but over the course of the next 4 years, I would face a lot of challenges, including a very difficult situation that resulted in leaving a church family that we loved, the cancer and eventual death of my very best friend, and some major job stress that resulted in some health problems of my own.
I just talked about challenges on my blog earlier this week – and how much I don't enjoy them! But, when I look back on them, I can honestly say that each one has been an instrument to mold me and change me – and, yes, make me stronger too!
Through it all, I've known that I can call on Ginny and she will be there for me. Mostly we just talk via the computer; but sometimes we chat on the phone too. Lately, she's been facing some of her own challenges. She knows I'm here for her – that I'm praying for her – and that I love her!
That's what is so wonderful about friendship. When you're weak and down, your friends can help to hold you up and to encourage you to press on.
I hope that each one of you has a friend like I have in Ginny. It's nice to know there's someone constant in your life – someone you can count on when the chips are down. Someone who will hold your hand (either physically or virtually). Thanks for being my friend, Ginny! You are special to me!
If you would like to get to know my friend Ginny better, please visit her blog – Proverbs 22:6 Academy. She is the creator of a full-line of copywork books that are top-notch! You won't want to miss them! You can also read more about her at Homeschool Mosaics – I conducted an interview with her a few months ago.
---