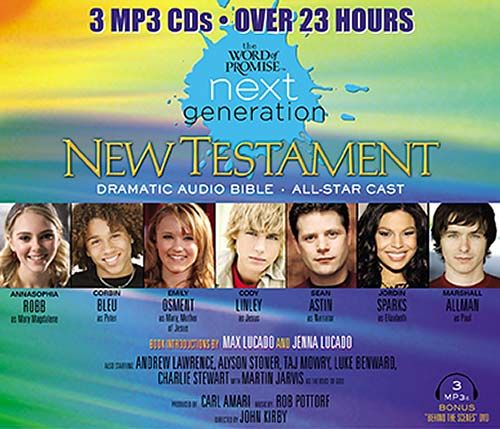 The Word of Promise Next Generation - New Testament
is a dramatized audio Bible for teens, by Thomas Nelson - - -
Now the entire New Testament is ready for the Wired Generation.
Today's youth ingest media at a faster rate than any previous generation. And they can't get enough! The Word of Promise: Next Generation - New Testament is the perfect way for young multi-taskers to absorb Scripture. This ambitious recording makes the Word accessible to more kids than ever before.
Starring a Hollywood-level cast of young talent including Cody Linley (Hannah Montana, Dancing with the Stars) as Jesus, AnnaSophia Robb (Charlie and the Chocolate Factory) as Mary Magdalene, Jordin Sparks (American Idol Winner) as Elizabeth, Corbin Bleu (High School Musical) as Peter, Alyson Stoner (Cheaper by the Dozen) as Martha, and narrated by Sean Astin (Lord of the Rings). The project includes informative book introductions by author Max Lucado and his daughter, Jenna Lucado, who is a speaker on the Revolve® Tour.
The Word of Promise: Next Generation is much more than just a word-for-word reading: it's an all-star cast performing audio drama with a rich original score and Hollywood special effects. When Jesus walks on the water, kids will feel like they're in the boat. When Peter waits in the courtyard during the Lord's trial, the fire will crackle. The ambient sounds of the Holy land, the breath-taking musical score, the world-class young actors and the timeless Word of Promise all combine to deliver an unparalleled achievement.
Set includes 24 hours of audio drama on 3 mp3 CDs and a bonus 75 minute Behind-the-Scenes DVD featuring interviews with the actors.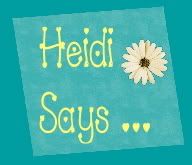 I should really be having Ashley write this review for me! She was thrilled when this audio Bible came in the mail! Ashley has been very faithful about reading her Bible, so our attraction to this product was not to get her to at least listen to the Bible; but, rather, we were attracted to the celebrity cast! My girls are both fans of Disney (channel & movies - even though we don't have tv service at our house). We were even more impressed when we went to the official
Word of Promise Next Generation website
and read the bios on the cast of characters! Of course, I love anything that Max Lucado has anything to do with, so I was pleased to see that both he and his daughter Jenna also play a part in this audio production.
In addition to the cast bios,
the website
also contains
freebies
(such as wallpaper for your computer), a 40-day listening plan, current events, and a donwloadable audio sample.
As always, I'm impressed with
Thomas Nelson
. In working with youth, I have certainly learned that you need to reach them where they are. This audio version of the Bible is a great way to do so and would make a wonderful gift to any teenager (or pre-teen) that you may know. It would also be fun to use in a Sunday School or youth group setting.
My only "issue" with this product is the fact that they are mp3 cd's. They will play on any mp3 compatible cd player (we listened on our computer), but we were unable to listen in the van. I'm sure that this 3 cd set will get plenty of use around our house, though. Check it out!