The
Crossway
Book Review program sent out a very neat book for review this month....
It's called
What Does the Bible Say About That?
and is a wonderful resource for kids ages 8-12. Since Gracie fits right into that age range, I was excited to see this one! Here's a bit about the book:
Hundreds of everyday topics and cartoons spice up this kid-friendly book to assure 8- to 12-year-olds that God's Word is relevant to their lives.
Most kids don't realize it, but God's Word has a lot to say about the things they care about most—and this lively book leaves no doubt about it. Covering more than 300 everyday topics in conversational, engaging, one-page units, 8- to 12-year-olds will get biblical perspective on such topics as: homework, dieting, anger, sports, classmates, the telephone, puberty, careers, siblings, rules, self-confidence, world events, sleep, friendship, nature, movies, embarrassment, tattoos, integrity, and knowing God, plus many more.
Each page of this kid-friendly book illustrates what a particular topic has to do with the Bible, what the Bible says about it, and how the Bible's teaching applies to readers, so that they begin to understand how relevant God's Word is to them. And with 200 original cartoons spicing up the presentation, What Does the Bible Say about That? is quite simply an unforgettably fun book for elementary-age kids—and a great conversation-starter for adults who know them.
Carolyn Larsen
has written more than forty books for children and adults, including Crossway's
The Toddler's ABC Bible Storybook
and
The Toddler's 1-2-3 Bible Storybook
. A mother of three whose humor and understanding of kids combines so well with her vast experience in writing on bibical topics, she is best known as the author of the
Little Girls Storybook line
, which has sold more than 1 million units.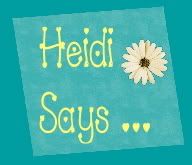 I love this little book and am excited to share it with Gracie! With over 300 topics (listed in alphabetical order in both the Table of Contents and the book itself), it contains something about almost anything your child might have questions about. I would highly encourage you to download the
12-page .pdf sample
(which contains the ToC, introduction, and samples of 2 of the topics). This book would make an excellent resource for any 8-12 year old and would be a well-received birthday or holiday gift. I am sure that, with the help of this book, we will have many wonderful discussions about things that are important in everyday life.
I will definitely be recommending this one!