Christian Fiction Blog Alliance
is introducing
Things Left Unspoken
Revell (June 1, 2009)

by

Eva Marie Everson
Every family--and every house--has its secrets. Jo-Lynn Hunter is at a crossroads in life when her great-aunt Stella insists that she return home to restore the old family manse in sleepy Cottonwood, Georgia. Jo-Lynn longs to get her teeth into a noteworthy and satisfying project. And it's the perfect excuse for some therapeutic time away from her self-absorbed husband and his snobby Atlanta friends.
Beneath the dust and the peeling wallpaper, things are not what they seem, and what Jo-Lynn doesn't know about her family holds just as many surprises. Was her great-grandfather the pillar of the community she thought he was? What is Aunt Stella hiding? And will her own marriage survive the renovation? Jo-Lynn isn't sure she wants to know the truth--but sometimes the truth has a way of making itself known.
If you would like to read the first chapter of
Things Left Unspoken
, go
HERE
.
Eva Marie Everson taught Old Testament theology for six years at Life Training Center in Longwood, Florida and has written numerous articles for Crosswalk.com (including the acclaimed
Falling Into The Bible
series), and has had articles featured in numerous publications, including
Christianity Today, Evangel, Christian Bride, Christian Retailing, The Godly BusinessWoman
and
Marriage Partnership
magazines. Eva Marie has been interviewed by radio, television, newspaper, and Internet media outlets. In 2002Eva Marie was one of six Christian journalists sent to Israel for a special ten-day press tour.
Eva Marie's work includes the award-winning titles
Reflections of God's Holy Land; A Personal Journey Through Israel, Shadow of Dreams, Sex, Lies
and the
Media
, and
The Potluck Club
series.
She is married, has four children and five grandchildren, and lives in Central Florida.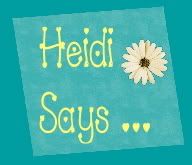 I absolutely loved this book - so much so that I found myself taking extra bubble baths this week, and sneaking away to the porch for a few extra moments of reading time. This evening, I even dropped the book in water - it was too good to wait until the pages dried, so I just kept reading through the wetness! This book was THAT good.
This was the first book by Eva Marie Everson that I had read, but now I'll be keeping my eyes open for The Potluck Club series as well. Ms. Everson has a real gift at storytelling. I loved all the characters in this book - they were fun and full of depth, and amazingly real. I especially enjoyed the references to the old family homestead, along with the other homes and places of business in the small town that was being restored. History is something of huge interest to me, and this storyline was just jam-packed with interesting history, on so many levels.
Kudos to Eva Marie Everson! I'm very impressed and won't be picking up another book to start tonight - this one was too good - I need to ponder on it for awhile. (Then, in the morning, I'll pass it along to my mom, cause it's also too good to keep to myself.)