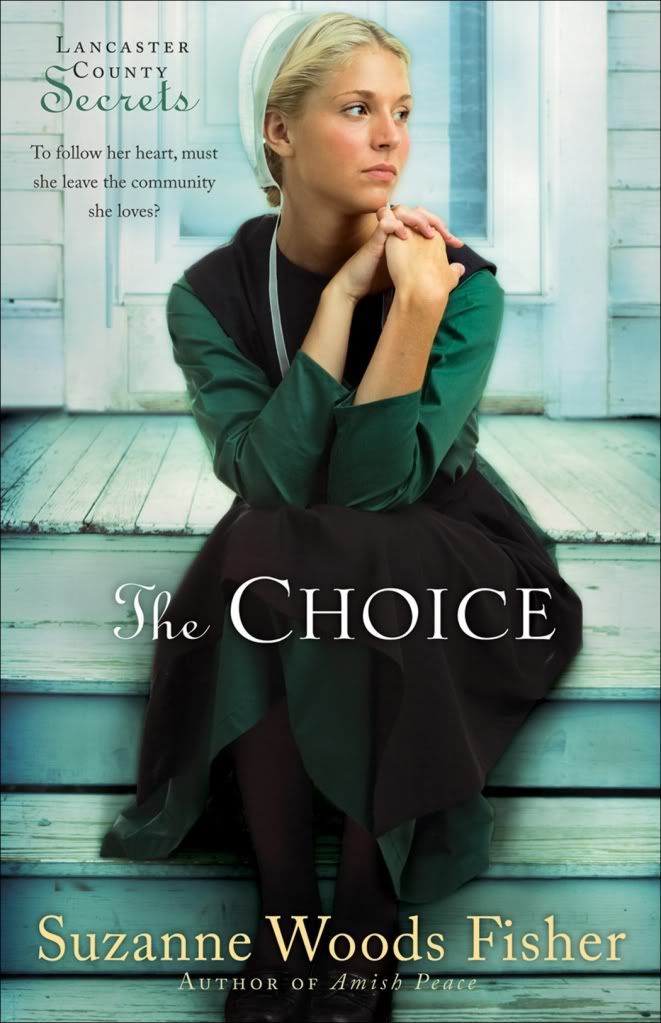 Lancaster County has always been her home--but where does her heart belong?
One moment Carrie Weaver was looking forward to running away with Lancaster Barnstormers pitcher Solomon Riehl--plans that included leaving the Amish community where they grew up. The next moment she was staring into a future as broken as her heart. Now, Carrie is faced with a choice. But will this opportunity be all she hoped? Or will this decision, this moment in time, change her life forever?
A tender story of love, forgiveness, and looking below the surface, The Choice uncovers the sweet simplicity of the Amish world--and shows that it's never too late to find your way back to God.
Suzanne is a wife and mom, raiser of puppies for Guide Dogs for the Blind, and an author of Christian books, both non-fiction and fiction.
Her relatives on my mother's side are Old Order German Baptist Brethren, also known as Dunkards. That's where her interest in Anabaptist traditions began. Suzanne's grandfather was born into a family of 13 children, started his career as a teacher in a one-room school house in Franklin County, Pennsylvania, and ended it as one of the very first publishers of Christianity Today. "We called him "Deardad" even though he was a very stern fellow. Still, Deardad's life inspired me to write."
After college, Suzanne was a freelance writer for magazines and became a contributing editor to Christian Parenting Today. Her work has been featured in Today's Christian Woman, Marriage Partnership, Worldwide Challenge, among others. She took the plunge into books a few years ago and now she's hooked. To learn more about Suzanne, visit her website at
www.suzannewoodsfisher.com
.
I am giving this book TWO THUMBS UP! To those who have been reading my reviews for some time now, I bet you're surprised to see me giving an Amish-themed book a good review, aren't you? Let me explain ---
I've shared in the past that I'm a fan of Beverly Lewis' Amish fiction books. I appreciate her storylines and especially like that they all end with a cliff-hanger (did I really just say that?! the suspense between books usually drives me crazy!). Her Amish facts and references to locations, etc. are usually spot-on. The other authors just don't compare in my opinion. I live among the Amish and know some about their ways (and what I don't know I can easily find out). I live in central PA and know about the places that are often mentioned in these books (and it drives me crazy when they aren't accurate!)
So, what is it about
The Choice
and Suzanne Woods Fisher that I like? Well, Suzanne's book isn't full of "fluff" about Amish traditions, nor does it describe locale. It simply tells a fiction story. And, it's not one of those books that you pick up, read chapter one, and know exactly how the book will end. No predictability here! With each passing chapter, I found myself saying (yes, I talk to myself on occasion) "wow, I wasn't expecting THAT!"
The Choice
is the first of a series of books by Suzanne Woods Fisher. (Watch for
The Waiting
, coming in October - I will be!) The series is called
Lancaster County Secrets
, and this first book was filled with them. But, in the end, truth is revealed; and I, for one, was blessed. There was one line, in particular, that really stood out to me in this book - "sometimes . . . the very thing we think is a problem turns out in the end to be God's protection". So simple, yet so profound!
If you're looking for a good Christian fiction book to read and, like me, you're sick of the predictability or the typical Amish hype, then I'd definitely recommend The Choice. I'll be sharing my copy and watching for book 2 in the series!
Wanna learn more about
The Choice
and Suzanne Woods Fisher?
Be sure to check out the
other reviews in this blog tour
! The tour starts today, and runs through February 12th, so you'll want to check back often.
AND, you'll want to mark your calendar for February 15th at 8pm (est). That's when you can participate in Author Talk with Suzanne on Facebook. Also, if you purchase your copy of
The Choice
on that date, your name will be entered in a drawing for a $25 Amazon gift certificate (see more Author Talk and Book Bomb details
here
).

Would you like a signed copy of The Choice?
Are you on Twitter? If so, simply Tweet this (copy and paste exactly):
Psst... pass it on! Join @suzannewfisher for a Book Bomb & Author Talk! Details here http://ow.ly/W84r #thechoice

NOTE: I received this book for free, as part of LitFuse publicity, in exchange for my honest thoughts.