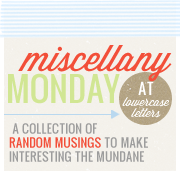 Since first participating in this meme a few weeks ago, I've come to realize that Mondays are the perfect days for these random, miscellaneous posts.  There are always about a million things running through my head on Mondays – and what fun to get it all down in writing!  So, here goes ---
Laundry.  Enough said, right?  It's a job that's never done.  I need to make laundry soap for both me and my mom today.  Last time, I tried it with Ivory; but we didn't like it.  So, this time, I'm going to use up my last bar of Fels Naptha.  Next time, I'm ordering the Laundry Soap bar from Virginia Soaps and Scents.
Brian is having our homeschool affidavit notarized today.  Each year, I seem to get a little more lax in getting my paperwork turned in to the school district.  I think this is the latest we've been.  Thing is, it's really not due until later in the summer, but I like taking it in when I submit our portfolios, so I only have to make two trips (in and back) instead of 4.
Speaking of school, I'm making up the girls' new planner pages for this coming school year.  The planning forms that are in the Schoolhouse Planner are closely based on the forms that I create here at home; but I prefer to customize ours to the curriculum we're using each year (hopefully we can figure out a way to make this work in upcoming editions of the Schoolhouse Planner also).  Rather than printing out blank forms each week for them to fill out, we're going to try something new this year – and keep all our records online and just print them out a few times throughout the year. We'll se how it works – I'll try to update throughout the year.
On Saturday we went to a 25th anniversary party for Brian's sister and brother-in-law.  In today's society, 25 years is a major accomplishment!  We'll celebrate 25 years in 2017.
Yesterday we had a lovely afternoon with my parents and my youngest brother.  He drove 2 1/2 hours to spend the day with my dad, even though his wife had other plans.  Wasn't that sweet? 
This evening, I need to take Ashley to meet up with our pastor's daughter – she's going to spend the night and babysit her kids tomorrow.  Ashley will be in baby heaven! She just loves babies.
That means, though, that Ian needs to come along to Gracie's violin lesson tomorrow.  It's always fun trying to keep him quiet!  Boys!
This week (so far) it's much warmer in PA than it was last week.  I think that Gracie, Ian, and I will dust of our swimming suits and go swimming tomorrow afternoon. 
I'm looking forward to hooking up with One Blessed Mama on Thursday evening, as they pass through our area on their way to NY.  Funny, it just worked out for us to meet them for the first time in FL a few weeks ago – now we're reconnecting already!
On Friday morning, Ashley and I are heading to TN for the weekend.  I'm very much looking forward to meeting Jolanthe (from Homeschool Creations and No Ordinary Moments) for lunch on our way.
This week's Destination Disney post is up.  It's a simple topic this week, so I hope more people will participate.  Maybe YOU?  We are trying to promote this meme more.  If you have any suggestions of ways to spread the word, please comment!
Was that random enough?  Geesh!  If you would like to participate in Miscellany Monday or read the random thoughts of others, please click on the button above.