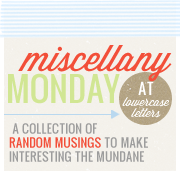 [one] someone recently told me that my blog and FB wall are too absorbed with Disney stuff.  Oh well – it is what it is, I guess.  I confess, though, that I am slightly obsessed.  My name is Heidi, and I'm addicted to Disney (planning, visiting, just the whole experience).  LOL  If you find that you, too, have an obsession with Disney, why not take part in our weekly Disney meme?
[two] we didn't watch the Super Bowl last night.  We don't have tv service.  Brian followed along online.  We did eat Super Bowl food though – pizza, chips, and dip.  After all, that's the most important part of the evening, right?
[three] our church building project is almost complete – which means that it's time to get the library open and running again.  If we can make some time this week, the kids and I may go and start sorting books – dividing adult stuff from kid stuff.  Anyone work with your church library?  Any advice/ideas are welcome!
[four] so last night, I was reading Ian a Bible story, and accidentally said "Santa" instead of "Satan".  Gracie heard me and laughed hysterically.  Thing is, though, it got me to thinking --- if you take the "n" from the end of Satan and shift it two places to the left, you get Santa.  Hmmm . . . Does this disturb anyone else but me?
[five] I saw on FB that the Susan G. Komen foundation is suing other organizations who use the word "cure" in their catch-phrase.  I find this disturbing on many levels:
I understand that breast cancer is very serious.  It's effected my family.  However, my best friend passed away after a battle with OVARIAN cancer last year.  I'd seriously like to see people showcasing the TEAL ribbon.  The world is overcome with pink, and there's more out there than just breast cancer.  Just sayin' . . .

Correct me if I'm wrong, but shouldn't the Susan G. Komen foundation be desirous of a CURE for ALL CANCER, as well as other still incurable diseases?  For Pete's sake, what do they expect these other organizations to use in their catch-phrases?  I just did a search on thesaurus.com for synonyms for "cure" and, quite frankly, none of them really measure up. 

Aren't they supposed to be using their money to find a CURE for breast cancer?  I'm thinking that suing all these other agencies is going to be costing them some big bucks, which seem to be would be much better used finding a CURE!

And just for future reference, in case anybody cares, I'll be very careful where I'm putting my donation money from now on.  If you're planning to walk for breast cancer, with proceeds going to Susan G. Komen, please don't bother asking me for a donation.  Thanks!
[six] I'm not being facetious when I say that Heluva Good French Onion dip seriously rocks.  Even for breakfast.  LOL