This week is week 6 in our
10 Weeks of Disney
topic list!
I'm so glad to have you here,
and can't wait to see what is on your list of
5 Favorite Snacks
We have always enjoyed the snacks at Disney (and anyone who's ever read my blog probably knows what my favorite is, as I've shared many times) – but we took snacking to a whole new level on this last trip – making us of the Disney Dining Plan. Now, we've got LOTS of NEW favorites. I'm sure you do too!
So, go post your list on your own blog. Be sure to include pictures (if you can) – we all love seeing the pictures! Then, come back here and link up with the DIRECT url of your post. I will leave the linky open for 2 weeks, so you have plenty of time to link up. However, a new topic will be posted next Thursday.
Take the time to visit the other links, read their lists, leave comments, follow their blogs, and make some new friends! Feel free to grab the coding on the button below to use in your Destination Disney posts. (I'd love for you to display it in your sidebar also!)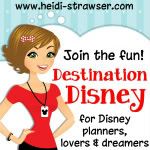 Plan ahead! Check out our full list of topics.
To see previous posts in the 10 Weeks of Disney series, click below: