This week is the third week in our
10 Weeks of Disney
topic list!
I'm so glad to have you here,
and can't wait to see what is on your list of
8 Favorite "Lands"
We're using the term "lands" somewhat loosely this week. Think 6 lands in Magic Kingdom – Main Street USA, Adventureland, Frontierland, Liberty Square, Fantasyland, and Tomorrowland. At Epcot, think Pavilions – both in Future World and in World Showcase. At Hollywood Studios, focus on streets or "areas" – such as Sunset Boulevard area or Pixar Place area. And, for Animal Kingdom, think country or "section" – Asia or Camp Minnie-Mickey.
There are lots and lots of "lands", sections, areas, whatever you want to refer to them as, to choose from. This week, though, our goal is to focus on our 8 favorites. Tell us why they are your favorites too (maybe your favorite ride or character greeting spot is there, maybe you take a picture there each year for tradition's sake, or whatever).
So, go post your list on your own blog. Be sure to include pictures (if you can) – we all love seeing the pictures! Then, come back here and link up with the DIRECT url of your post. I will leave the linky open for 2 weeks, so you have plenty of time to link up. However, a new topic will be posted next Thursday.
Take the time to visit the other links, read their lists, leave comments, follow their blogs, and make some new friends! Feel free to grab the coding on the button below to use in your Destination Disney posts. (I'd love for you to display it in your sidebar also!)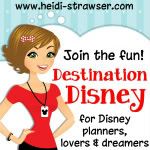 Plan ahead! Check out our full list of topics.
To see previous posts in the 10 Weeks of Disney series, click below: