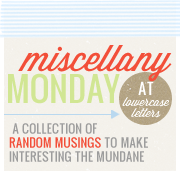 [1] First of all, I just have to say that sinus issues really stink, you know? I've been having sinus issues all weekend and the symptoms just aren't any fun at all – headaches, runny nose, stuffy nose, sneezing, watery eyes, painful & itchy eyes, eyes that will barely open, lack of voice (OK, so maybe my family kinda enjoyed this one), and the list goes on. Thankfully, the OTC Claritin seems to be helping (cause a trip to the doctor is not in my radar for this week!)
[2] Despite feeling kinda crappy, I spent my weekend (Friday & Saturday) at the CHAP convention in Harrisburg, PA. Thankfully Ashley went along and actually acted as chauffer this weekend because I really don't think I would have been capable of getting myself there on Saturday. I was very disappointed in my booth location; but I think we made some good connections and we certainly enjoyed talking about Disney all weekend!
[3] For Mother's Day, I woke up voiceless; so I stayed home from church. My dad and Brian prepared our lunch – hamburgers on the grill, baked beans, and some pasta salads – with strawberry shortcake and homemade ice cream for dessert. Oh, how I wish I could have tasted it better! I'm sure it was yummy! The kids spent the afternoon playing a new Nancy Drew game while I napped. Sunday afternoon naps don't happen too often around here – so I'll chalk that one up to being sick and a Mother's Day gift! The kids are getting me a renewal to my favorite magazine – Celebrations! Yes, indeed, these kids know what makes me happy!
[4] We arrived home from the convention late on Friday evening, but found some fun treasures that had come in the mail that day --- the first was Ashley's diploma (which I ordered from HSLDA), the second was Gracie's school planner (which I ordered from The Well-Planned Day – I took a chance on this one, but wanted to try a print planner for this year, so we'll see how it works. Of the planners I've looked at, this one definitely has most of what I was looking for.) More on both of these items in upcoming posts (I'm sure).
[5] My friend Crystal is so thoughtful! We don't get to see each other nearly often enough – but she was thinking of me and picked up an old Disney cookbook for me at a used book sale. I've been having so much fun looking through it and picking out some recipes that I'd like to try. I've been wanting to start a Disney cookbook collection; and now she's started it for me.
[6] We have our homeschool evaluations scheduled for this Thursday. And guess what? I'm really not prepared. So, over the next few days, we need to get to work on our year-end videos and putting together an assortment of work samples from this year. I'm planning to go paperless this year and submit everything on one cd. We'll see how that works out.
[7] Speaking of school . . . I'm working on cleaning off the school shelves and organizing the stuff for next school year. That's one of my goals for today – to get that all accomplished. That means, coming soon, I'll be posting about the choices we've made for next school year.
Those posts are always fun, right?
[8] Next Sunday, we are having Ashley's Graduation Celebration (open house style). That means that we have some cleaning to do and lots and lots of preparation. It seems like we never have any down time around here; so we haven't even planned a menu, made a store list, or anything yet. Hopefully we will work well under pressure and pull something off that doesn't look totally thrown together at the last minute. We shall see . . .
I'm sure I have lots more random thoughts that I could be sharing; but, alas, I also have lots of work to do. So, I better stop blogging and start working!