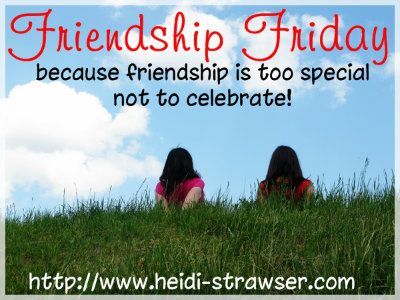 Two weeks ago, I introduced you to my heart idea of doing a Friendship Friday on my blog each week. Last week, I introduced you to my friend Brenda. I hope you spent some time getting to know her by checking out her blog!
I also hope that you spent some time contemplating the friendships in your life and what they mean to you! Did you decide to honor a special friend on your blog this week? Last week, we had 2 people link-up with posts about their special friends. I hope that this week we get lots more!
This week, I'm moving in a different direction, and would like to introduce you to one of my Disney friends . . .
---
Last spring, I had the wonderful opportunity of becoming a part of the Magical Blogorail. Honestly, when I first inquired about it, I didn't know if they would accept me because my blog isn't "all Disney" (though I do blog about Disney a lot, because it's so much a part of our lives!) But, they did!
I was made a member of a new line that was being introduced – the Orange Loop! Five new members were assigned to that group at the time – each one of them is listed and linked in my sidebar. Each one of them has become a friend to me this past year. It's been so much fun blogging with them about various Disney topics each month. Each one of them is special and unique and brings her own expertise and fun to the group as a whole!
Today, I want to talk about the only one that I've had the opportunity to meet in person . . . Melissa from Disney on Wheels.
I have to admit, I felt a special connection to Melissa from Day 1. Maybe it was because she goes to Disney on wheels (a wheelchair) and because I've spent time at Disney with another wheelchair-bound friend. Or maybe it was because she is just so darned cute! Or it could be simply because I love reading her blog!
We realized that our trips would overlap earlier this year and we'd actually get to meet up at Disney! I was excited; but, as always when you are planning to meet someone that you have only previously met online, I was also a little nervous. I mean, you just never know what someone is going to think of you! And my family can be a little crazy sometimes!
We first hooked up with Melissa and her hubby at Epcot, but we didn't really have much time to spend together. The next day, though, we met up with them again – quite by accident – at Hollywood Studios.
She ended up in line for Rock 'n' Roller Coaster with Brian and Gracie! So, we got to sit and chat for awhile. (Not long enough, of course, so I'm hoping for a re-do on a future trip!)
Anyway, she's just as adorable in person as I expected her to be!

A few weeks ago, Gracie lost a bracelet that she had purchased on our September trip. She was heartbroken! I knew that Melissa was vacationing at Disney around that same time, so I sent her a message asking if she was still there, and explaining about the lost bracelet. I asked if she'd mind picking up another one and sending it to Gracie. The plan was for me to reimburse her (of course).
Well, Melissa went above and beyond! Not only did she find and purchase the bracelet, but she said she bought it with her AP discount and that I didn't need to worry about paying her for it. And then, she said she put it in the mail "with some other goodies".
Turns out that Melissa was lucky enough to visit during Epcot's 30th Anniversary. And she sent us some goodies!
(There were also some of her blog pins in there – which Gracie and Ian scarfed up right away for their pin collections!)
Honestly, I have tears in my eyes while I'm typing this because I often find myself thinking there aren't many good people left in this world. But, Melissa is one of the few – and she's my friend – and I'm blessed!
If you'd like to get to know Melissa too, stop by and visit her blog or her FB page. Tell her Heidi sent you!
---
get the InLinkz code