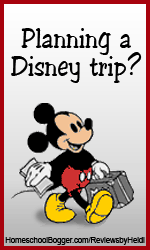 We're leaving for Disney in a couple of weeks, so I'm anxious to hear your answers this week!
A couple of weeks ago, we talked about your favorite on-site Disney treats.  This week, we frugal-minded homeschool moms want to know ---
What are your favorite snacks to carry into the parks with you?
You know, even if you don't go to Disney, but have great snack suggestions, you're welcome to share this week.  If you don't want to post on your blog, just leave one of us a comment – we love hearing from you. 
Of course, we'd love for you to share your ideas on your own blog and link back to us!  Please sign the Linky below.  (Also, if you have suggestions for upcoming topics you'd like to see us discuss, please e-mail your ideas.  We'd love to incorporate them!)